---
Caelan cares deeply for Iri. He sees him as a friend and will do pretty much anything to help him when he needs to. They met at the Midnight Rose bar and have been good friends since the incident with the alphas. While they had heat-induced sex there are no deeper feelings between them.
---
Ezra is one of the few employees that Caelan has worked at the Midnight Rose, in fact, he's one of his favourites mostly due to his calm attitude and how friendly he is towards customers. They get along rather well and he counts the leopard among his friends despite Ezra being a Beta.
---
Despite Caelan being his boss, Ezra finds spending time with the alpha rather enjoyable. They have similar views and care for their customers quite a bit. There are times when Ezra things Cael isn't acting his best but this is only when Omegas come into the bar smelling like Heat or when an Alpha is being particularly unruly.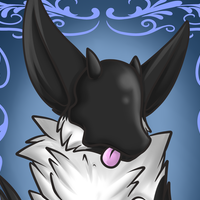 ---
Divvy is a strange beast. Raelyn enjoys visiting the divexa even if he scared her at first. She shares some flowers with him on occasion. Though other blooms have warned her to not get too close to divexa.