Flavio Lee
20. he/him ae/aer. pretentious academic
About Me
I'm Flavio, a writer, artist, historian-in-the-making, and occassional ttrpg designer from Central Virginia. Here be my repository of art and characters, sometimes for sale, most of the time not.
Here's the most-complete-but-still-not-exhaustive repository of my characters, worldbuilding, and elsewhat, often based around the theme of everyone's story being of importance and history being a domino effect we all contribute to. I'm a LGBT historian in study and TTRPG nut in hyperfixiation, so many of the things I create are based off of that! My favorite games are Mage: The Ascension, Changeling: The Dreaming, Call of Cthulhu, and 7th Sea!
I'm not too active on my socials except for twitter - the best way to contact me is either th dm, twitter dm, or (most preferably) discord.
Current Projects: NOMENMANCER, Mage: The Ascension Supplement Books, not dying
Links
Featured Characters
Latest Bulletin
---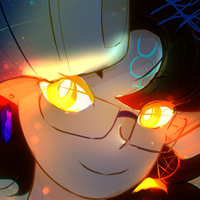 I'm going through some art and writing to get a backlog of art up! I'm sorry in advanced lol, I'm just trying to stay as up-to-date as I can for my commissioners to have samples of!