Milked
Pronouns: Any
---
---
Hi I'm Milk and I'm slowly trying to figure out toyhouse. I have undiagnosed ADHD (working on trying to get a diagnosis) so I forget to do a lot of things that I thought I did but turns out I didnt. I also take forever to get stuff done so please be kinda patient with me if we're ever communicating about art or characters and I just blip out of existence for a while. Genderfluid and a bisexual disaster generally I have no idea what is ever going on.
Do's:
---
Draw Gore using my characters ex: Pastel/Fruit/Mild gore
Draw my characters using drugs
Draw my characters suggestively
Draw silly stuff involving my characters <3
Don'ts:
---
Draw NSFW/Fetish content of my characters
Draw extreme gore using my characters
Use my characters in relationships without my consent
Notice Board
---
-LGBTQ+ Positive
-Still trying to figure out my art style
-Gaming is one of my biggest distractions
-I forget what I like sometimes. We discover together lol
-I do not know how to code 0-0
[ sona ]
My personal fursona that I have a strong connection with. I use them to represent me/who I want to be and (Insert other information later)
---
[ Secondary Sona ]
Nesquik was designed earlier during covid when I started getting into minecraft SMP's and back into playing minecraft. They partially represent my minecraft sona but also somewhat represents my true self and my online persona. She will eventually represent me on twitch!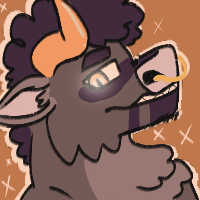 ---
[ comfort ]
Happy bubbly little lion who just represents my happy childish emotions and bright yet soft colors.