🐭 Mousie 🐭
Agender 22 Hufflepuff
About Me
---
Mousie's the name and making OCs is my game. ¯\_(ツ)_/¯
My major is Creative Writing! I love novel writing, screenwriting, creating, and developing characters for stories and personal projects. Take a look at my OCs if you wanna browse around! None of them are for trade or sale.
Things I like include The Guy Who Didn't Like Musicals, Black Friday (Starkid), Heathers, Be More Chill, Dear Evan Hansen, Panic! at the Disco, Steven Universe, Stranger Things, Harry Potter, and Giant/tiny content! I love cosplay and drawing among other things. I'm apart of the furry fandom and my primary fursona is a mouse named Erin!
My storage account is MousieStash!
Feel free to hit me up if you wanna chat or ask about my OCs! 🐭
Characters
Every OC with sensitive subject matter (anything goes) has an appropriate warning page and/or are marked with Mature. Warnings are detailed in the popup. Please take note of this and view them at your own risk.
Links
Flight Rising Furvilla FurAffinity DeviantArt Tumblr Credit
🌈 Partner 🌈
Besties
Latest Bulletin
---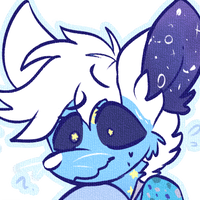 I'm selling every OC in this folder here: https://toyhou.se/Mousie/characters/folder:1317917 I have anthros, ferals, monsters, and humans/humanoids for sale! My folks got scammed and I only need about $50 left to meet my end funding goal! Several of these OCs have additional original art attached to them. I'm willing to haggle (some are listed with price ranges) but be reasonable! Please take a look if you can or spread it around! Any purchase will help immensely.
Feel free to PM me or comment directly with a link to a character you want and your offer if you're haggling!
Recent Characters & Designs
---