27
/
NON-BINARY (THEY/THEM)
/
PAN ARO
/
ISTJ
/
UK
/
SELF-TAUGHT
---
OC trash with a lowkey uniform fetish and a morbid interest in history.

OC settings: Sci-Fi • WW1 • WW2 • Age of Sail

STERCUS ACCIDIT.
---
---
I'M TRASH FOR:


Star Trek • Star Wars • Dunkirk • Peaky Blinders • 1917 • Journey's End
The Man in the High Castle • Turn: Washington's Spies
---
ABOUT MY CONTENT
• Occasionally NSFW, all OC's are 23+
• War: I write from an anti-war POV since I'm interested in individual experiences, daily life and the psychological impact of war.
• Research for historical plots is ongoing so there may be some mistakes.
• I'm still refining my style, for an accurate log see
this journal
on DA.
---
NOTICE
• Pings, comments & PM's are welcome! I sometimes forget to reply.
• Do not kin, RP, use my OC as a faceclaim or copy their info.
• Do not add my OC's to your wishlist, they are not for sale or trade.
• Do not ask me why you were blocked. I may block for my own comfort/saftey as I see fit and I do not owe you an explenation for why I blocked you.
---
Latest Bulletin
---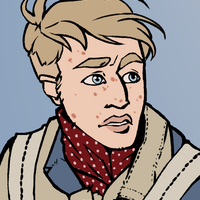 Long story sort, I hit burnout real bad related to irl stresses and kinda dropped off the grid. The sort of burnout where you just eat and sleep and that's it. Where you find yourself missing OC's and being creative—writing and drawing and developing characters/their dynamics and the like but you don't even have the energy to consider doing anything with it even when you have a day of doing nothing. Even got to a point where I stopped being active on Discord for a while because I just didn't have the energy to keep up with it. The good news is I passed what I needed to, I'm free of math hell. I now have correct uni start dates with a good sponsor so I can train for my dream career as navigation officer and I'm working through the back end of burnout. It means I can finally make that sweet switch from dealing with Super Karens almost daily whilst working a dead-end job from cruise ships to a long term dream career in general cargo. I do appreciate the travel experience and the foot in the door to the merchant navy cruise ships gave me though I'm looking forward to move onto something more challenging.
---
Creative projects update: 
Burnout is starting to ease off now I have dates to work with (September this year) and things are moving in the right direction—it's helping motivate me to get back on track with creative projects. I won't say I'm still drawing because whilst this was all going on I just shut down and stopped doing anything vaguely creative even though I wanted to and ideas were there, I just didn't have the energy to execute them. It takes a lot of stress for me to hit that point, I've been there exactly three times in my life. But I'm gonna ease back into art and OC's soon with a proper strategy to get shit done in a way that's realistic to the speed I work at and the spoons I have on any given day set aside for drawing. Whilst I haven't been doing anything I have re-assessed my current ability as well as what I want out of art and figured out how to get the most out of practice in order to achieve my goals. I still want to work on OC based art, I just want to get better with poses, colour/lighting and having my characters interact with each other/a scene as well as getting better at conveying a character's personality via art. I don't think I want to take on a webtoon, especially with my career plan but I am def interested in small 1-3 page comics exploring character dynamics for those ideas that'd work better in film format. I also need to learn how to draw on the iPad since I picked one up so I can still draw when on a work rotation a while back but first I gotta figure out how to recreate my Sai brush set in procreate because idk how procreate brushes work.
My main ease back into things project right now is getting my research, character bios and character dynamic notes and plot dev tidied condensed and into an offline source for easy access. I've also been slowly picking at plot outlines generally, getting a proper sequence of events tied down to help push along character development and odd ideas around specific points in a story I can't stop thinking about. I find I'm much more motivated to write when I'm on a ship and have a break or during free time in the evening but ship internet is flakey af. Sometimes I have an idea but I need to cross check research to make it work but I can't connect to Drive to pull up a research file because I got put in time out for hitting a bandwith limit that's not listed in the terms and conditions. 
I have my WW1 and WW2 plots just about researched it's just a case of tidying things to input into a notebook. There's 1 item on my WW2 research I haven't done (German flak defenses) and 2 on my WW1 plot (casualty evacuation chains & artillery barrages and signals) I need to pick at but I'm not expecting either of those points to take long to do. It means I can start researching for my Age of Sail plot more actively very soon—as soon as I get those research notes tidy which in theory shouldn't take me more than a month or 2. 
My Age of Sail plot took a slight fantasy turn into a general Georgian era possible sailpunk worldbuild with some Treasure Planet influence. I'm still not sure if I want this to be fully canon or if it's just a creative exercise to get ideas in the fully historical timeline moving (it's a very fun concept to play with so if it doesn't become canon I may still keep it as an AU) but right now I'm still keeping things largely rooted in history. Lately I've been thinking about picking up a story based around the Battle of the Jutland in WW1. It's been a background interest of mine for a while (honestly speaking anything with ships in is) but I haven't acted on it because I wanted to get research for current historical projects to a decent level, including my Age of Sail plot before taking on another historical project. Also I don't have any character ideas spare for that plot right now, no thoughts head empty so it's sitting on the backburner waiting for me to do something with it. But I'm one of those very visual people where need to see the characters as a drawing in front of me to get a rough plot going which tbh is why I started drawing in the first place. A smaller side project of mine is I have enough brainrot for the movie 1917 that I've been writing fanfics for it (my Ao3 user is RUHX) and I do have some long fics in mind but I need my general WW1 research tidied so I can use it for fic writing purposes. 
I'm not sure what to do with my science fiction plot though. It either needs a rethink or I need to accept that dumping WW1 era characters in that setting is what made it work and run with it or I retire that plot and it's characters/concepts as an elaborate AU I play with from time to time because I can't make myself care about it unless I dump my WW1 era characters in that story arc. Characters thrown out of their original time period is a fascinating concept to me and it's really fun to work with but it was never intended to be the main driving factor of that story even though I did have this be canon for a while. Yet if I leave it as the plot was originally intended, without the element of historical characters misplaced from their original timeline by Fake Science[tm] it tends to feel like a large part of the story is missing. Regardless of what I do with it, I'm looking to keep the general concept of surveying deep space because I do enjoy the survival and exploration elements of sci-fi and it's another idea that's fascinated me for the longest time that I've always wanted to do something with. 
I have considered keeping the sci-fi plot as a story but making a few new WW1 era characters who exist just to be dumped in that arc—I think half the trouble is Jasper and William got dumped in the sci-fi plot a lot when I first wanted to play with the historical characters in a sci-fi future concept but also they were already established as WW1 era OC's and I'm finding lately I'm preferring to keep it that way. Or at least keep their involvement in that plot an AU. Downside to that fix is I've got no ideas for new OC's right now and I highkey want to avoid adopting designs to fill gaps. 
For the sci-fi idea at least I've gotta do a few brain dump sessions to see if I can save it as an independent story arc or if I retire it to AU status and do something else within the genre for a main story. Though I find it hard making new plots because making new OC's is a quarterly (event if that) so we'll see how things go. Everything else is moving along nicely and honestly speaking ahead of time even with burnout holding me up.
Recent Characters & Designs
---