27
/
NON-BINARY (THEY/THEM)
/
PAN ARO
/
ISTJ
/
UK
/
SELF-TAUGHT
---
OC trash with a lowkey uniform fetish and a morbid interest in history.

OC settings: Sci-Fi • WW1 • WW2 • Age of Sail

STERCUS ACCIDIT.
---
---
I'M TRASH FOR:


Star Trek • Star Wars • Dunkirk • Peaky Blinders • 1917 • Journey's End
The Man in the High Castle • Turn: Washington's Spies
---
ABOUT MY CONTENT
• Occasionally NSFW, all OC's are 23+
• War: I write from an anti-war POV since I'm interested in individual experiences, daily life and the psychological impact of war.
• Research for historical plots is ongoing so there may be some mistakes.
• I'm still refining my style, for an accurate log see
this journal
on DA.
---
NOTICE
• Pings, comments & PM's are welcome! I sometimes forget to reply.
• Do not kin, RP, use my OC as a faceclaim or copy their info.
• Do not add my OC's to your wishlist, they are not for sale or trade.
• Do not ask me why you were blocked. I may block for my own comfort/saftey as I see fit and I do not owe you an explenation for why I blocked you.
---
Latest Bulletin
---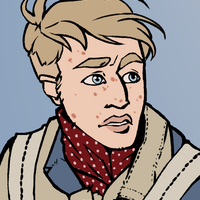 Uni all confirmed and enrolled and I have been at the college for a month already. Free time is really low and sometimes I have to spend it reviewing notes and lectures and I haven't figured how to balance uni work with creative work.
That said I'm starting to pick at stuff again and generating ideas as I'm getting used to being back in full time education but I def don't have time commit to larger peices right now. It's challenging but I am enjoying it.

Exact course I'm studying is Maritime and Shipping Operations which gives me an OOW Unlimited tickets meaning I can work as navigation officer on any size vessel. I don't know what ships I'll get on my sea phase but I have chance of tankers, reefers, ferries, cruise ships and super yachts. I'm keeping fingers crossed for tankers and reefers since I've already spent past 4/5 years working on cruise ships and I wanna try other sectors in merchant navy.


If anyone would like to talk or hang out please DM me and I will give you my discord name. I'm down for casual or discussing OC's and shared interests. Server recs also appreciated, tho focus is almost purely on historical these days so preferably servers that will be okay with that. I'm more comfortable ha ging out with over 18's so may be iffy if you don't have your age or something along the lines of 18+ on your bio.
Recent Characters & Designs
---