---
---
SheepyStuff
"Don't talk to me like you think I know what I'm doing." -Sheep, 2017
Character hosting, primarily for commissions. Always open for trade offers, but am very picky! May be slow to respond, I'm easily scattered and forget sometimes.
Currently work days are varied, corresponces will be minimal on those days, sorry!
CHARACTERS MAY CONTAIN NSFW/KINK ART AND CONTENT (all tagged appropriately), BROWSE RESPONSIBLY
---
---
Latest Bulletin
---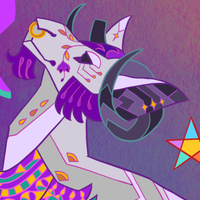 I feel like I've been getting a good number of trade requests that I look at and then forget exist so uhh..
Hey! I'm sorry if you send me something and I never get back to you. I have gone from working part time to full time! So while I check TH pretty often I just don't have the energy to reply to all my messages. My sad little introvert brain has like, half a spoon to deal with anything and I need it for work OTL
Purchase requests will always be replied to when I see them, so no worries there. Trades however, as a head up, are way on the back burner, so I'll mostly be doing them when I feel like it? Sorry if that's a turn off, feel free to offer as always, but expect the potential of a very delayed response (or no response, I don't mean to but it'll probably happen).
Anyways, that was it, just some context why I sometimes never get back to some people. Not on purpose, just a total lack of spoons/time!