---
---
SheepyStuff
"Don't talk to me like you think I know what I'm doing." -Sheep, 2017
Character hosting, primarily for commissions. Always open for trade offers, but am very picky! May be slow to respond, I'm easily scattered and forget sometimes.
Currently work Wed-Fri, corresponces will be minimal on those days, sorry!
---
---
Latest Bulletin
---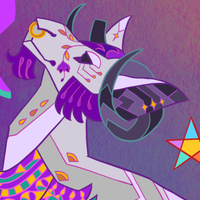 (Stole this from @Moody; you are free to copy/use as well!)
(If you re-use this, I would like to mention that the format is meant to be updated/changed based on your own preferences; you do not have to just change the emojis around, tear this thing apart to suit your needs, Friend!)






Hauket, Cranneo, Cinnabutt




Fumi-LEX, Odvunir/Moody, Gatorstooth




Cyboogs, Smooshkin, VCR-Wolfe




TheKingTheory, ForestFright, Scpkid




Kingstooth, Lilaira, Fuildarach, Xuu

💖

All time favorites!

✔️

Good/Well liked

⚠️

Depends

⛔

Likely No (But maybe)

🛑

Hard No (Please do not offer)
(Favorite designers are in no particular order, nor is this list comprehensive; please, feel free to offer any design by any artist, I'll look at just about anything!)
General Feel / "Genre"
💖- Forest/Woodlands/Pine Trees
💖- "Hipster"/Coffee Shop
💖- Lumberjack
💖- Mountains/Snow-capped peaks
💖- Occult/Witchy
💖- Flowers/Flowery/Petals
💖- Soft/femme
💖- Ocean/Sea life/Deep Sea
💖- Juxtapositions (Ex. Intimidating characters being very gentle, or sweet looking characters having a mean streak)
💖- Crime Bosses/Gold/Flamboyantly wealthy
✔️- Arctic/Tundra
✔️- Wasteland/Fallout
✔️- Decaying/Mossy woods
✔️- Swampland
✔️- Realistic/Realism-esk designs
✔️- Butch/Punk/Biker
✔️- Gems/Geodes
✔️- Country/Farming/Rancher
✔️- Vulture Culture Based (Bones/Pelts)
✔️- Folk/Indie Music Themed
⚠️- Space/Astrology/Galaxy (I love this theme but I'm picky on how it's used ;v;)
⚠️- "Cartoony" or "fursuit" styles
⚠️- Robotic/Futuristic
⚠️- Steampunk
⚠️- Horror/Gore/Surreal (As above, love it but am picky hah)
⚠️- Food based
⚠️- Sports Themed
⚠️- "Hillbilly" or "Redneck" types
⛔- Anime/Anime Style (Really depends on the design)
⛔- Cyberpunk
⛔- Extreme/Very intense Body horror (Like it but super picky)
⛔- Rave Designs
⛔- Based on copyrighted characters of any kind
⛔- Hard Goth/"Emo"
⛔- "Ouch So Edgy" designs
🛑- Politically themed/Fueled Adopts
🛑- Nazi/Nazi based/"Alt-Right" paraphernalia/themes
🛑- Drug Based Adopts* (As in, if that is their entire design; if your character smokes/is based on a pipe/etc. that's fine)
(*I do not have anything against drug use; purely personal preference)
General Species Preferences
(Species in parentheses are more specific breeds/species that I like above all! Was easier to categorize them like that than try and line them all up.) 
💖- Werewolves/Were-creatures
💖- Dragons (Reptilian, preferably, but I will consider mammalian)
💖- Bovidae (Sheep/Goats/Cows)
💖- Reptiles (Snakes/Leopard geckos)
💖- Corvids/Song Birds (Chickadees/Magpies/Ravens/Black Birds)
💖- Ring-necked Pheasants
💖- Raptors (The bird kind; Turkey vultures/Ospreys/Harris' Hawks)
💖- Spinosauruses
💖- Coyotes/Hyenas
💖- Eels/Octopuses
💖- Anthro designs
💖- Seals (Leopard/Harbour)
✔️- Unique/Striking Canine designs (Doberman Pinschers/Poodles/Rottweilers/Chow Chows/Shiba Inus/Mastiffs/Others)
✔️- Foxes
✔️- Big cats (Jaguars/Lions/Cheetahs)
✔️- Raccoons/Rabbits/Possums/Armadillos
✔️- Swans/Ducks/Geese
✔️- Mustilids (Otters)
✔️- Deer/Elk/Moose
✔️- Dinosaurs (Velociraptor/Allosaurus)
✔️- Feral designs
✔️- Hybrids
⚠️- Animal taurs (Animal/Animal)
⚠️- Apes/Monkeys
⚠️- Generic wolves/canines
⚠️- Parrots
⛔- Humans of any kind/variation (Can't draw em')
⛔- "Sparkle dogs" (That style of feral, generic dog, usually wearing a hat/heavily pierced/has colorful markings and hair? You would know it if you saw it)
⛔- Generic Kemonomimi Designs (Normal human with cat/dog ears, for example)
Original/Closed Species Preferences
💖- Hauket Designed Species (Renfairs)
💖- Hoshibuki
💖- Fumi-Lex Designed Species (Fumis/Potion sippers)
💖- Xuu designed species (Smoks/Tide Puppies/Sodamas)
💖- Bitaurs
💖- Gatordogs
💖- Verziya
💖- Eskers
💖- Grem2
💖- Gastrosnaps
💖- Leech Monsters
✔️- Dullahinny
✔️- Snap Traps (Hooded/Sleek, especially)
✔️- Foolings
✔️- CCCats
✔️- Plush Dragons
✔️- Chittercida
⛔- Cinnadogs
⛔- Pacapillars/Nautipods/Strudels/"Cute" Species
(I like them but I find them very hard to draw)
*
⛔- Eerays
⛔- Bagbeans
⛔- Nebnoms/Jolleraptors
⛔- Species I don't know of? (Honestly, I try to avoid smaller CS species but I'll always look at offers of them)
🛑- Dreamies
🛑- ARPG heavy species
(I have nothing against the species below the asterisk, nor anything against people who enjoy them! Purely a personal preference thing, usually because I cannot draw them/am not interested in the community!)
Body Types + Features
💖- Muscular/Beefy/"Bara"
💖- Beards/Mustaches
💖- Unusual Blood/Mouth/Innards colors (Not red/Pink)
💖- Bi-color Eyes
💖- Third Eyes
💖- Big Teeth/Claws
💖- Wings (Bat-esk)
✔️- Fat/Chubby body types
✔️- Average body types
✔️- Wings (Feathered)
⚠️- Skinny body types
⚠️- "Noodley"/Long-limbed
⚠️- Extra limbs
⛔- Body Builder-esk muscles
⛔- "Sexy" Barbie/Hourglass shaped bodies
⛔- Extremely Overweight (Like, fetish large)
🛑- Extremely Large breasts/genitals (Again, like, fetish large)
🛑- Reptiles with breasts if I cannot change the design (Yes, seriously, it's a design feature I do not personally like much at all)
🛑- "Hyper" Body types/parts
Colors
💖- Pastels/Muted colors
💖- Night Sky/Dusk/Sunset & Sunrise/Clear Skies (Just... sky colors in general)
💖- Dark Purples
💖- Ocean colors (Blue/Coral reef based/Etc.)
💖- Monochromatic
💖- Bright/Neon purples
💖- White/Black with Gold/Metallic markings
✔️- Natural Pelt/Skin Colors
✔️- Browns/Coffee colors
✔️- Raspberry/Blackberry
✔️- Mints/Seafoam/Teals
✔️- Purple and Black
⚠️- High Contrast color combos
⚠️- Neon paired with a dark base color
⛔- Neon on Neon
⛔- Salmon pink
🛑- Rainbow
Markings
💖- Solids/Blocked
💖- Masks
💖- Eyes (Actual eyes and eye markings/tattoos)
💖- Iridescence
💖- Smooth gradients
💖- Scales
💖- Back tattoos
💖- Metallic/shiny
💖- Glowing
✔️- Stars/Constellations
✔️- A few small/medium sized tattoos
✔️- Naturalistic stripes
✔️- Jaguar/Leopard markings
✔️- Freckles/Small, sparse spots
✔️- Marble/Opalized-esk looks (Cracked/Veined)
✔️- Cloud markings
✔️- Sparkles/Glitter
⚠️- Shaped (Hearts/Spades/Clubs/etc.) (Exception is stars)
⚠️- Highly intricate markings
⚠️- Tree markings
⚠️- Band-type stripes
⚠️- Clown (The makeup kind)
⚠️- Splotchy/Patches/Piebald
⚠️- Galaxy
⚠️- Very extensive/entire body-covering tattoos
⛔- Word tattoos
⛔- Lots of spots
⛔- One solid color/None or very little markings
🛑- Patterned polka dot
🛑- Weed leaves
🛑- Emojis
🛑- Obvious/Poorly integrated textures*
(For body markings only; used on clothing articles is okay by me, though I prefer otherwise)
Accessories / Clothing
💖- Flower crowns
💖- Suits/Formal attire
💖- Simple Gold Jewelry
💖- Earrings/Rings/Necklaces/Septum piercings/Nipple piercings
💖- Gems
💖- Silks/Sheer materials
💖- Lingerie
💖- Flannel/Suspenders/Beanies/"Hipster" looks
💖- Scarves
💖- Bones/Skulls
💖- Victorian era clothing (Loosely based is okay)
✔️- Nude
✔️- Leather jackets/Boots
✔️- Cowboy/rancher get ups
✔️- Glasses/Sunglasses
✔️- Sundresses/Skirts
✔️- Armour
✔️- "Vintage"
✔️- Long jackets/Peacoats
✔️- Other piercings
⚠️- High-Fashion/Avant-Garde
⚠️- Generic looks/Jeans and T-Shirts
⛔- "Hippie"/Stoner looks
🛑- Appropriative/Offensive clothing
Misc. Preferences
💖- Full freedom to redesign or repurpose the character as I see fit
✔️- Designs on bases (P2U or F2U), as long as effort was put in (Good/liked colors/markings)
⚠️- Pokemon/Pokemon-hybrids/Fakemon
⛔- Blatant copyright-based characters; I try to avoid those, personally, but exceptions certainly exist
⛔- Steven Universe Gems; I am not actively using them and currently working on re-purposing my own two, so, it'll probably be a no unless I really like the design
⛔- Not being allowed to change gender/body type/minor details of a character
⛔- Characters I cannot re-gift or trade
⛔- Having to join a group (If I don't need to be active within the group, it's a maybe, otherwise no thanks)
🛑- Not being allowed to make the character anything but heterosexual
🛑- Not being allowed to change the name (This is a big one for me, I'm most comfortable changing the name of new characters)
🛑- Characters with a pre-developed profile or story that I am not allowed to change/ignore/not use
🛑- Needing to participate in an ARPG/RP group to own/use the character
Please Do Not Offer
🛑- Fetishized children (Seriously, get outta here with that shit 😒)
🛑- Characters labeled with slurs/fetishizing words (H*rm/C*ntboy/D*ckgirl/Etc.) (Or, at least delete that from the bio before offering it, come on now)
🛑- Characters labeled as "Ps*chopaths" or "S*ciopaths" (*)
🛑- On that note, characters they mock/trivialize mental illnesses in any way
🛑- Appropriative Designs (Ex. Wearing a generic headdress and war paint)
🛑- MLP ponies/characters (Unless they have non-MLP art)
🛑- Homestuck species/MSPA-style artwork
🛑- Anything made with a dollmaker (unless there is additional non-dollmaker artwork)
(*Characters who have violent tendencies/are murderous are okay by me, but if it is related to a "mental illness" or something like that I really do not want anything to do with them what so ever)
IF A DESIGN COMES WITH NSFW/COUPLE ARTWORK:
🔊- I am an adult
          I am not comfortable giving my age outright, personally, but I am of the age of majority
🔊- I will not trade/sell designs with NSFW artwork to any minor should the artwork be included with the design
          I will trade/sell artwork that has a nude ref to a minor, but not if the nudity on said ref sheet is sexual in nature (eg. an erect penis, bodily fluids, etc) 
🔊- I will want to see any NSFW work (if it is not shown in the gallery) before I purchase/trade for a design
          NSFW content will likely not affect whether or not I buy a design or not, personally, but it is something I wish to be aware of. I like to know what sort of content my characters have been in/associated with.
🔊- After obtaining a design, I may or may not keep NSFW art and/or shipping art in a character's gallery
         I do not personally put NSFW artwork within my character galleries unless that is their purpose or for specific reference, so it will likely not be featured. Not only so, I do not feel comfortable using shipping art unless I own both characters, so that will also not be featured. Please do not be offended by such; it's just a personal preference thing, not a slight on your artwork/characters/etc.
          
(Any work not uploaded will be saved (with credit) elsewhere. If i sell/trade the design at a later date, it will be included.)