Latest Bulletin
---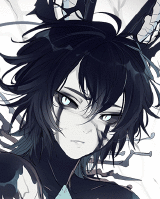 So I've decided to put down my General Wishlist. I'm going to keep it short and sweet since there is not a whole lot I am looking for anymore.
Priorities:
Melwyrm (by Jotaku)
(I want another for a specific role and to ship with one of my Lunaiths. ;///; )
Not priority, but on my dream list:
Armori (by Tsundear)
(Waiting for a custom baby only. I wanna make my B&S Lyn, Aki, into one.)
Other than that I am only looking for art of my current babies.
Also adding a To-Do List/Tracker for my MYO slots.
To-Do List:
x1 Galaxbon (by Krawark)
(MYO WIP IN PROGRESS!!)
x2 Rare Mignyan (by Casin0)
(MYO WIP IN PROGRESS!!)
x1 Uncommon Mignyan (by Casin0)
x1 Regular Dainty (by Pajuxi)
(MYO STATUS TBD)
x1 Crossbreed Dainty (by Pajuxi)
(MYO WIP IN PROGRESS!!)
Tracker:
x1 Very Rare Heartbaby (by Wolphe)
Recent Characters & Designs
---