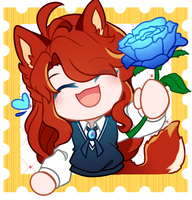 Big announcement from Sho-ii.
Hi, I will open a gacha adopt on my TH and DA in the future, I'm not sure when will it exactly open but I think it will around 1st August to 1st September. 
My plan is to make around 30 adopts for the first time. But hopefully it can go 40 adopts. 
I will post a bulletin for everyone to claim a roll or an AB when I open it.
You can see the design update and more information HERE.  
============   ============
I hope you guys can suggest any theme that you like down in this bulletin. Feel free to drop any ideas you have, as much as you can :3 No limit for suggesstion.
If you want a ping when it's open, Please reply to the right comment in the bulletin to be in the list. 
And thank you so much for being here and being interested in my adopts ^^ 
I'm really appriciate it