Syrcaid • Old • She/Her/Hey, you.
Howdy, I'm Syrcaid (seer-kayd)!
I make/sell/adopt/buy adoptables! I also make bases and sell them on Gumroad!
I'm from a time that the internet forgot. "Back in my day" we used to call adoptables cyberpets, so apologies if I use those terms interchangeably! I'm a child of the 80's, please pardon my throwbacks! I just can't help myself.
Recent Characters & Designs
---
Latest Bulletin
---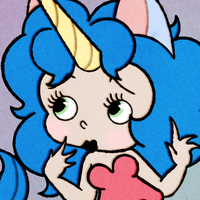 ❗️ If you do not agree to any or all of these terms, then please move on!! ❗️
Last Edited: 12/01/2020
---
General Rules
I don't like drama. 😑 Period.  To put it frankly: I'm too old for that bullshit.

I reserve the right to refuse sales/exchange to users.  

I do not refuse lightly.

If  I feel you are being rude or abusive to me or anyone else requesting  one of my adoptables, I will ban you from my page and I will refrain  from future sales/exchanges.

I am not obligated to put up with misbehavior or inappropriate remarks.  Artists are people, too.

Online art is not my primary job, I am not always online 24-7.  Please leave me a note or message.

All forms of harassment will result in my banning/blocking you from my account/social media.  I don't want to deal with that anymore. 😡

If you make a scene and start posting accusations because you didn't get your way, I will refuse to sell you anything ever again.
Line Art
Do not sell my pay-to-use/free-to-use as-is or as part of a collection of bases.
Do not claim my unedited bases as your own original work!
I don't police who and who doesn't own my pay-to-use lines, but please do not distribute bases you've purchased from me out for free.
My line art that is pay-to-use or free-to-use is intended for adoptables, original characters, and for personal use role play.
NOT for commercial use!  Do not include my line art in comics/illustrations/publications intended for commercial use!
Credit is not always required.  If you'd like to credit/share, please do!
Adoptable Sales
I reserve the right to refuse/ignore requests that are not done in the manner I asked.
I use Paypal for all money transactions.
If I cannot understand your question/comment(s), I will move on.
If you do not respond to a question I need an answer to within 24 hours, I will move on.
Do NOT give me money for an adoptable/line art before I have approved.
Crossposted adoptables (adopts posted both on Fur Affinity and Toyhouse) are sold based on who requests first, I use timestamps on comment posts to do this to the best of my ability!
The earliest post from either site gets the adoptable.
Your Resales & Your Trades
As of September 19, 2019 you are allowed to resell and retrade your owned adoptables  that I've made for the same price you purchased them.
You are in  charge of what or how to price additional art you purchased for said  adoptable.  I can't police that nor would I even try to.
If you do trade something I've made to someone else, please let me know so I can update it on the "Sold" section of my gallery/-ies on Fur Affinity.
If you've traded on Toyhouse, I cannot and probably will not give you the art for that adoptable as it now belongs to someone else. 
If your adoptables have been stolen, please report them to the admin of this site.
Commissions & Trades
I can ONLY use the information you give me! 

📣📣📣

I am not psychic, please include any and all references you have available.
If you ask for something but offer no references, I will draw something that I feel is appropriate for the piece.
I only use Paypal for real money exchanges.
I reserve the right to refuse certain requests.
On Holds and Pending Sales
I no longer accept Deviant Art points. 👈
As of March 2, 2017 I will hold pets for a maximum of 48 hours (I will use the post's timestamp for this).
After 48 hours, an adoptable will be open again for someone new to purchase it.
Pixel Emoticons & Animated GIFs
My emoticons are free for personal use on and off Deviant Art for journal decorations, forum posts, etc.
My emoticons are not intended for applications, programs, or games intended for sale/profit/commercial use!
For those who know/have editing skills, I give my permission to recolor my animated gifs to match your aesthetic(s).
You can use my animations on Blingee/Giphy or similar apps/programs/filters.
Please credit me for the original animation when posting to a gallery.
---