Welcome to my profile, where I store, create, and work on character designs and stories they may be apart of!
I appreciate your patience when interacting with me, as I can be socially awkward/anxious when interacting with others or just plain busy. I will do my best to respond in a timely manner :D
I am prone to setting characters to 'Authorized Only' while I work on various things like profile coding, information updates, or just because I feel more comfortable that way. Feel free to comment on my profile and ask to be added to my Authorized list, although I most likely will only add mutuals/people I have interacted with before.
Please be aware that my profile contains properly tagged adult content!
Latest Bulletin
---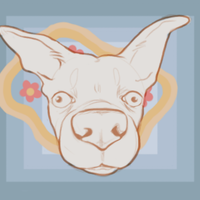 Happy New Years, I hope everyone enjoys and makes the most out of 2023!! 
With a new year comes changes and resolutions!! My main goal is to blow up and act like I don't know no body be more social! I really isolated myself and refused to do much of anything other than get by, IRL and on Social Media, due to the issues I was dealing with and not knowing how to cope very well. But as I progress and work on myself, things have gotten easier to handle, so I really have high hopes for this next year!!
 
So, what's going to change???? 
Well, I am going to try involving you, my followers, more in my journey as an Artist! While I plan to not stress myself out by getting the most commissions I can or pumping out as many adoptables as possible, I'd like to talk, get to know what y'all like about my art, and show everyone my gradual art improvement. Plus, I'd like to try new things other than art, such as story writing and worldbuilding, coding HTML, creating YCH's and Bases for users, themed Gacha's, and more! It's definitely gonna be a lot of me stepping out of my comfort zone, but everyone's gotta start somewhere and who knows where it'll lead me! If there is anything you'd personally think would be refreshing and fun to try as some new hobbies or new content on Toyhouse, feel free to let me know and I'll see what I can do!
I know this is becoming a long ramble, but here's something to look forward to!! I would love to host another raffle of sorts, to celebrate not only the future things to come, but you all as well; for sticking around during such a quiet time of my life as an Artist. So once I finally feel like the amount of Raffles circulating on TH have gone down a little, I'll start planning and see what y'all would like then!

Thank you to everyone who's read this far but in case if not...
TLDR; Happy New Years! I'm going to be working on new hobbies and trying to make more bulletins to keep y'all in the loop, but I am not retiring art! I'm just not gonna try to stress myself out as much and live in the moment :D + Look out for a future bulletin about a F2E Raffle soon........