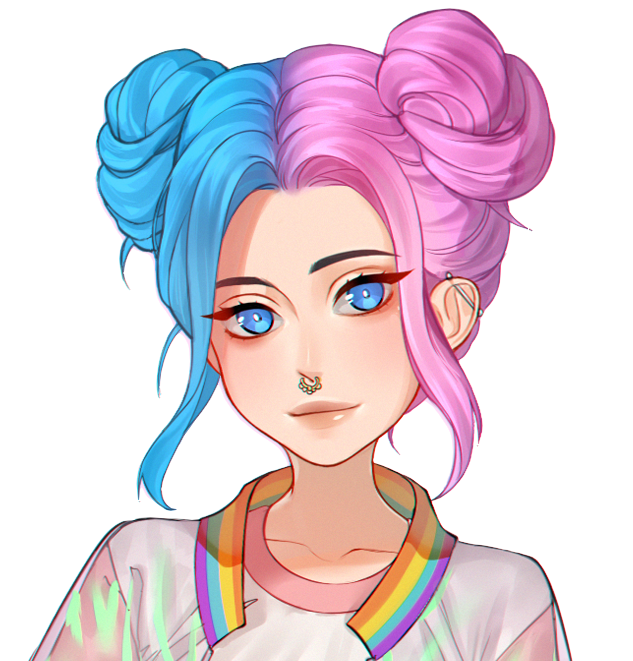 Whisper
26 . Female . Bi/Pan. Poly. Pisces.  
About Me
---
My name is Brooke or Whisper. I also commonly go by Blysse. I've been drawing as long as I can remember, but i've only recently started to work on the craft seriously. I started collecting characters back in early 2007. Since then my collection has only gotten bigger. I mostly like things with pink and blue and pastel colors. I also love gold and rose gold! I love anything space or cloud themed, and I really love ocean stuff too! Overall I like soft and cute pastel things. Most of my characters don't have fully finished profiles, it's something i'm working on constantly. As time goes I promise i'll fill out more of their information and worlds. At this time most of my characters live in different universes, but I plan to fix this at some point. Anyway, thanks for stopping by and I hope you enjoy your stay! 
All photography used in these profiles has been taken from Pexels or Unsplash and is being used with permission.
Interests
---
Video Games, Anime, & Cartoons
BathBombs, Glitter, 420
Macaroons, Boba, & Other Sweets
Pink, Blue, Purple, Gold, Rose Gold, Pastels
Rude People
Mushrooms
Most Bugs
Orange (the color)
Notice
---
None of the characters outside my sale/trade folder are usually for sale.
I am happy to look at offers, however I am attached to most of the characters here. 
When offering for characters on this account please use the guide provided on the side bar of each page. 
Anything under the Sonas or SOs folder are always off limits. No offers will be considered on them at this time.  
Commissions
---
Adopts
---
Most of the characters in the sales and trade folders are older characters of mine that i'm no longer attached to and am trying to get rid of. Feel free to offer trades on the sales folder, however i'll be a bit more picky than on what I have in the trade folder. 
Roleplay
---
The links above may stay blank for a while. I don't typically RP much anymore, however if you want to try i'm up for it.