Zorukia
Hello! I'm Zorukia! You can call me Zoru, too, if you'd like.
I am a Clinical Psychology/Criminal Justice student in my last year of my bachelor's, as well as a writer/designer.
I adore collecting characters and getting art of them. If you want to see their art, feel free to check it out on their page! I also don't mind comments on my character profiles. A lot of my characters will have backstories and literatures, so if you're curious, check out their pages to learn more about them!
Thanks for being here <3
Sometimes I make adoptables or sell existing characters that I own! If you are interested in being pinged if a character goes up for sale or offer, let me know on the character's profile! I don't mind offers on my characters as long as they aren't tagged 'DNO'.
My adoptables are in their own folder in the 'For Sale' master folder, so check those out, too if you'd like! I make adoptables on bases since I don't really do lineart, but I very much enjoy putting pretty designs down. All of the bases I use are p2u ones that I have paid for in order to use commercially/for profit!
Latest Bulletin
---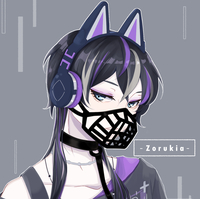 Popuns are raffling a super cute character!!