Aika. 19. they/them, ey/em 
Welcome to my little hangout! I'm Aika, an aspiring writer/comic artist! I may not be the best at art or character creation but i try. My niche lies in making stories and designs based on science, including personifying all chemical elements off the periodic table. In the near future I hope to make some comics too, hopefully I don't slack...
Take note that I only use TH to upload characters and store art/info, so i might not check and reply to DMs. 
I am an absolute sucker for science and cute gijinkas. Art trades are cool, but keep in mind I might be picky or get busy so don't take it to heart if I decline! 
Disclaimer: If you know any other element personifier, please do NOT compare my work to theirs.
Art status
Requests: never, mutuals only
Art trades: ask (usually open but I'm picky)
Commissions: none atm 
NOTE: I'm very picky when it comes to image transfers when sending art to my TH gallery—dont be offended if I decline. Just so you know I generally decline any art transfers except if my character is drawn with someone else's!
Social media links
Instagram (not v active)
(gif by mayuniki)
Latest Bulletin
---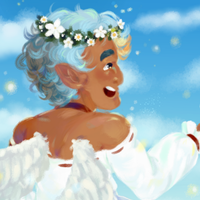 TLDR: I found a cool new profile code and now my main cast's profiles are getting updated to have that+ some basic info of theirs are getting edited in due time. if you see an influx of new character notifications or things in my OC profiles shifting—that's why! 
Recent Characters & Designs
---