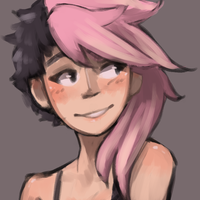 Hi!  Just posting a bulletin to clear something up!
I've hidden all my characters from anyone who isn't authorized to see them.  If you would like to see my characters, please just shoot me a dm or a comment somewhere and I'll look over your account and authorize you if I feel I can trust you~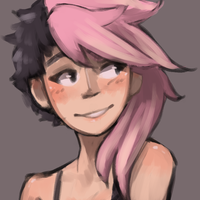 MKAY, SO...
I want to get my Facebook page some new followers, and how I plan to go about doing that is through a two week long raffle, and awarding three random people who share my page through Facebook with free art--probably some chibis, since that's my main seller. I figure if I have more people on my page following me, I'd start being a lot more active.

Opinions? Pointers? Other ideas for more followers?
Any advice or help would be wonderful ~ 💕

My page is located here for those who are interested in advance!!
facebook.com/banannumonster/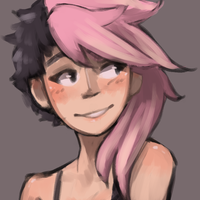 FOR THIS CONTEST, THERE WILL BE A TOTAL OF 6 COUPLES THAT YOU CAN CHOOSE FROM TO DRAW
ALL OF WHICH...
Belong to me, and my dearest friend, LashCandy (dA) / Lainykins (TH) ♥
We made sure to choose a wide variety of couple types so that we could appeal to as many people as possible who want to enter the contest!  So that means if you don't like drawing guys, we have two strictly female pairings to pick from to draw, and vise versa.  We hope to see a whole bunch of entries for this contest!  We will love any and all pieces submitted!  And without any further delay, here are the couples we would like to see drawn!
---
COUPLES
Harper X Jerald
Harper
A demon's soul that a witch put into a pumpkin to bring to life. She chose a pumpkin because it was soft and vunerable, wanting to make something with the fierceness and power of the underworld, but the kindness and understanding of mortal nature. Harper is exactly that. Jerald is a gargoyle who was tasked to look after Harper during his young stage of life, and Harper has always had a strong attachment to the other. Being such a tender and nervous monster, Harper always was amazed by Jerald and his "say what you feel" attitude. He would literally lay down his life for Jerald, his best friend and boyfriend.
Note: You may draw him in his Jack-O-Lantern form or demon form since both are canon.
Jerald
A gargoyle who generally has a cold attitude towards everyone, and can come off as VERY grumpy and agitated at the smallest things.  The only one he shows any sort of positive reaction, and emotion to is Harper, who he loves dearly with all his heart, and he would bend over backwards to keep his boyfriend safe, and happy.  He has dedicated his life to Harper, and won't allow anyone to step between the two of them.  Originally just Harper's bodyguard, the two eventually grew closer as Harper grew up, Jerald falling in love with Harper's dedication, and affection towards everyone around him.
Ivan X Casey
Ivan
A Russian Mafia Hitman who was hired to kill a rival mob boss leader and known as the "Hangman" due to his fondness of using rope on his victims. He always is seen with a soft smile on his face and a cool and calming demeanor. With the terror and stress that the mafia brings, Ivan likes to take up calming hobbies like cooking, knitting, and making flower crowns. Casey is the florist who provides him flowers for one of his many hobbies and seems like a kind person.
Casey
A young, outwardly sweet man who has a strong passion for flowers.  He usually has a very positive attitude towards his customers, and comes off as soft-spoken... however once their gone, he usually turns to talk to his flowers about how weird people are.  He has a very soft spot for Ivan though because he's never seen anyone else who likes flowers quite like Ivan does.  He's quite fascinated with Ivan in general, and loves how much he smiles.
IMPORTANT: THERE IS A VERY NOTICEABLE HEIGHT DIFFERENCE BETWEEN THESE TWO!!  Ivan is 7'4", and Casey is 5'3" ♥
Victor X Griffin X Aerie
Victor
Meet Dr Frankenstein.  Over the years, he's become all the more obsessed with experiments, and alchemy, and shows a huge interest towards those who have an unusual body chemistry.  Mad scientists never change.  He's got a bit of yandere side opposite to his normally laid back demeanor, and is VERY protective over Griffin, and Aerie both.  He is generally very sweet, and doting towards Aerie--he tends to show a more teasing side to Griffin, but he cherishes him and his company all the same.
Griffin
Jack Griffin is a sparatic and outgoing scientist, commonly known as the Invisible Man. He often is loud and speaks his mind, and overdramatic. Usually he keeps to himself though as the years have made him feel like he's nothing more than the butt of joke to most monsters and humans alike. Aeries sweet spirit and Victor's teasing fun self has caused him to slowly break down his walls. He would do anything for Aerie and sees him as a kind monster that he wants to protect. Victor, on the other hand, he's a big tsundere towards and would never admit how much he truly admires Dr. Frankenstein, truly one of the most brilliant minds he's ever met.
Aerie
A nervous, but VERY sweet slime boy who works as a librarian.  He's a closet pervert, and can often be found reading smut in broad daylight.  He cares very deeply for Griffin, and has dedicated most of his time to making sure that Griff is doing all right when he's not at the library.  Originally a just fan of Dr Frankenstein, he couldn't contain his excitement when they met, and thinks that he's one of the sweetest people he's met, and he is very willing to donate any amount of slime, or DNA for his experiments.  Aerie feels very safe, and happy around Griffin and Victor both, and couldn't be happier when they're all together--even if he doesn't exactly notice the grumbling and teasing going on between Griffin and Victor.  He honestly thinks it's just playful banter.
IMPORTANT: These three MUST be drawn together, no exceptions!!
Ms Yeti X Bridget
Ms Yeti
The abominable snowwoman.  Yeti is very confident with everything that she does, and it's very clear when you meet her.  Despite her confidence though, she's very soft and sweet towards everyone that she meets.  She goes out of her way to try and help people become the very best version of themselves they can be, and learn to love themselves for who they are.  Yeti is very attracted to Bridget, and every time she comes into town, she makes sure to check up on her first to make sure she's doing okay, knowing she can get stressed running a whole city.  She is always down for kisses and cuddles with her favorite witch.
Bridget
A witch that escaped the Salem Witch Trials and started her own safe haven for monsters everywhere so they would never have to suffer at the hands of humans like she and her "sisters" had. Over the years she has become a very opinionated, no-nonsense woman and is sometimes found sitting and smoking a long pipe deep in thought. The utopia she has created has slowly become more than she can handle and the stress gets to her from time to time. She's extremely thankful for having the beautiful Ms. Yeti around to keep her company and be her support from the stress of the city.
Adrian X Jay
Adrian
A nerdy litte Dainty child who has a passion for aliens, though she's never seen them in person herself.  She loves playing RPG style, and anime styled video games, and has a large collection of posters from her favorite games (as well as a lot of alien paraphernalia) hanging up in her room.  She's absolutely fascinated with Jay's artistic abilities, and is incredibly jealous that Jay has encountered aliens before--and is always asking for Jay to share her stories with her.
Jay
Jay is a happy-go-lucky dainty who is a up and coming artist by day and a alien hunter at night. Alien hunting can be "such a total pain" in her butt and doesn't often talk about her secret job. Jay likes to paint bright and colorful pieces, even being commissioned to do graffiti pieces for local neighborhoods. Sometimes in her free time she goes to read to children at the local library. Adrian is a totally adorable fellow dainty that she has a "ultra mega super duper" crush on, and it's hard to keep her secret job from Adrien. Watching her light up when Jay talks about aliens makes her heart have all the dokis.
Derek X Lydia
Derek
A gamer that's soft-spoken and gentle. He enjoys escaping the world through games, but also likes being outside and doing activities such as snowboarding or watching drive in movies. He's never really thought about having any sort of relationship, but now that he's met Lydia he can't stop thinking about her. The idea of having a relationship has always seemed really intimidating, but if it's with someone like her it seems completely worth it.
Lydia
Lydia in person is a very quiet, shy, and withdrawn person, who never goes out of her way to meet and talk to people on her own.  Online in all of her MMORPG games, she's a huge, bubbly personality who's famous throughout the gaming community.  She feels safe behind her computer screen, and feels like she can do anything.  Even after meeting Derek, who she realizes is her soulmate, she's still very shy and timid around him, worried that she might mess up since she doesn't have the social skills to interact normally with people.
IMPORTANT: These two characters are in a universe where an individual sees in black and white until they meet the person they're destined to be with.  Upon meeting, the soulmates gets to see colors for the first time.
---
RULES AND GUIDELINES
END DATE IS FEBRUARY 14TH!  VALENTINE'S DAY!! //swoons// so romantic ♥
THIS IS A DRAW MY COUPLES CONTEST!!  That means that you must draw all the characters included in a specific pairing!  Drawing them separately will not get you an entry into this contest!
You don't need permission to draw these characters haha.. it's a contest specifically for you to draw them.  Please go ahead and draw them!
Please make sure to tag me AND LashCandy when you post your entry, just to make sure that we notice it as soon as possible!  We don't want to miss out on your entry!
Please feel free to use any art medium you are most comfortable with, in any style you choose!  We do not want to limit artistic creativity for anyone!!
Feel free to submit as many entries as you'd like!  Just be aware that you can only win ONCE!!  You will not be rewarded more than one prize, no matter how wonderful each entry of yours is--sorry!
Please don't pester either of us to comment on your entry!  I personally won't because I don't want a comment to seem like I prefer another entry over another.
DO NOT COPY, EDIT, TRACE, REUPLOAD, OR HEAVILY REFERENCE ANY PRE-EXISTING PIECE OF ART FOR THIS CONTEST!! NO BASES ARE TO BE USED EITHER!!  We only want to see YOUR original art!
Have fun!
---
PRIZES
FIRST PRIZE
$100 / 8000 from banANNUmonster
Couple Colored Waist-Up drawing OR 
Custom Chibi OTP adopt set from LashCandy 
SECOND PRIZE
$75 / 6000 from banANNUmonster
Colored Waist-Up drawing from LashCandy
THIRD PRIZE
$50 / 4000 from banANNUmonster
Colored headshot from LashCandy 
RUNNER UPS
$25 / 2000 from banANNUmonster
Headshot sketch from LashCandy 
CURRENTLY UP TO THREE PEOPLE
We will add more if there are more entries than expected!
OTHER ENTRIES
$1 / 100 to each person who enters from banANNUmonster
A smol, simple doodle from LashCandy 
Just to help encourage you to enter!
I want to reward you all! ♥
---
Please let me know if you have any questions concerning this contest!!
Thank you so much for your interest!
I can't wait to see your entries! ♥ ♥ ♥