Latest Bulletin
---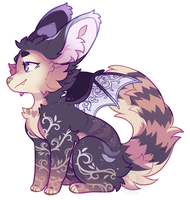 Hey all, it's your local fairy cryptid checking in -
I don't know how many people even follow me on here but as some of you may know I've been wanting a dog for... well, two decades really. Within the last five years or so, it's become increasingly obvious that a service dog would help a lot of the issues I've been having with getting outside - especially since covid happened and all the rules changed and I've struggled to keep up, to the point where I've become really isolated and rarely leave the house. Part of that was environmental, but I've finally moved away from my parents' house and this continues to be an issue. If anything, it's even more obvious how difficult it is to go places now that I'm not constantly stressed by my day-to-day environment. Not living with my parents also means I'm finally allowed to get a dog, because I was banned from any pets I couldn't hide in my room (my parents knew about my cats, just didn't want them anywhere in the house... it was not good for my kitties, and they're so much happier now they have more space!)
I just turned 30 on the 1st, kicking off Pride with an overwhelming mix of hope and grief at how far I've gotten and how far there is still to go before I can thrive. It's become so clear to me that I need this dog, but moving took up all the savings I had. I've started a ko-fi, I've started a GoFundMe, and not even my family has chosen to support me in this, even by sharing the link with anyone. My mom told me that my goal gave me "something to work towards" - I don't even think she was being cruel, but I don't think she understands why this is so important to me. Fortunately, my partner is supportive and since we live together I'm not totally alone trying to navigate all of this... but it's still hard since neither of us is working. I haven't had a job in two years, and I struggled to hold onto one even before that.
I've been selling off my collection of tarot decks to raise funds, and we're about 1/5 of the way there as of my writing this. More information about why I need this dog, and the most current progress towards our goal, can be found here. Please note that I'm not out to my family about being trans, which is why there's a maybe-confusing bit about why I'm using Fae on there instead of my "real" name.
All of the characters in my sales folder are for sale, you can offer less than asking price and I'll probably accept. I'm absolutely willing to do discounts if you get multiples.
I'm also more tentatively accepting offers on these characters:
Lisa Frank Cabbit (worth about $100)
very tentative Veil (worth around $1000 but since I'll be keeping a few of the most personal images I'm willing to discuss this - will only sell with NSFW ref if 18+ otherwise it will be deleted) 

Easy links:
I will be a bit slow to reply to this because I'm also juggling messages about deck sales and trying to keep partner and I fed throughout the day - ever since I posted the tarot sales, I've been overwhelmed trying to keep up, but the sooner we have enough for this dog the sooner I can focus on speaking with breeders (which I've also been doing this past week) so we can hopefully get the process started as soon as possible.