こんにちは。
jules, chaos, alien, clay, discord they/it/he/cap/capri/capris/chaos ☆*: .。. 19 & host of a sys ♡ transmasc agender + acearo cupio/nebularomantic (˶˃ᆺ˂˶) english/some swedish
alien who loves drawing ponies and collecting cat memes!! ᨐฅ
Likes . . . mlp!!, minecraft!!, rpg games, indie games, lesser known games, ANY horror, character design, music, cats, helping when I can!, enjoying comfy bed, tea, black licorice, sea food, shapes and colours
Dislikes . . . being rude for not reason, being unreasonable, loud noises that i wasn't ready for, FREAKS
important things about chaosaliien Posted on 3:59 a.m
---
due to having mental illnesses we are easily prone to short term memory loss! if a commission, custom, or anything is taking longer then a week please dm us on discord or here! one of our special interests is minecraft, which includes mineacraft youtubers! people REALLY hate the dsmp so if you don't like it dont interact?? idk?? i don't really care i think its funny people get so pressed LMAO, i'm very passionate about things and tend to ramble so let me know if i seem to be overpowering the conversaton!! we do NOT support endo systems! if you are an endo system you can interact with our page but we will not interact back, we are sure you're nice but comfort is #1 always!! I LOVE MY FRIENDS!!!! if you have beef with starryeggs ponshroom sillygutz cryptidcake parfaitpawss OR anyone who talks to me even a little on discord YOU HAVE BEEF WITH ME! even if its none of my business i will MAKE it my business if it means keeping my loved ones safe and happy!!
dni if Posted on 4:00 a.m
---
ableist, racist, lgbtphobic/queerphobic, or toxic in general, support/create/endorse problematic content and people (pedophilic/incestuous/zoophilic/etc.) and/or are an "anti-anti," "proshipper," "fiction doesn't affect reality", or "self-proclaimed problematic.", support/want nfts, if i find out any of these about you, you will be blocked and blacklisted, no warning.
ᨐฅ IF YOU EVER NEED SOMEONE TO VENT TO, OR SOMEONE WITH A BIG MOUTH TO HELP YOU NO MATTER IF YOU ARE A BESTIE OR A COMPLETE STRANGER I WILL HELP THE BEST I CAN /SRS
---
Alien is an alien (gasp) who enjoys nothing more than existing, sleeping, and kissing his bf cheddar. if i had to compare him to anyone it'd be jerma, alien was the jerma before jerma LMAO. a rather catlike being who will and can kill you
tangent and pulse Posted on 2:46 a.m
---
pulse and tangent are an unlikely duo. a bandit and a tyrant. they have a rivals to lovers to rivals to lovers kinda relationship. as outwordly aggressive as tangent is and as laid back and carefree pulse is, they make a rather perfect team of thieves.
my latest oc hyperfications, these change a lot LMAO
silk forewing Posted on 8:46 p.m
---
part of my main mlp next gen, silk is just a puppeteer with a knack for being a little weird. i love this creature to death and i want you ALL to look at them!!!
MY LATEST FLUTTERCORD KID!!!
Latest Bulletin
---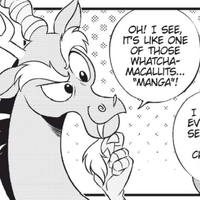 Took a test and I think it came back positive?? Going to the doctor tomorrow!! I've been bed ridden for 2 days and have felt pretty weak so I'm sorry if art takes longer than expected to finish :((