long time no see!
i wanna apologize for not being active with coding like the way i was before. i gotta admit, i kind of... fell out of love with coding.
but! seeing all the new codes pop up on the popular page really has sparked that fire back in me again!!
so, i've made some changes on how i'm gonna do things from now on :3c

please bear with me as i... try and explain my intentions. i don't really know how to word everything :'3

first thing's first - what'll happen to this account and the codes found on it?
i will be abandoning this account completely after i post this bulletin
all codes that were here have been hidden and are no longer available
people who have bought a p2u code from me can still see what they bought, so you can still use them ofc!!
feel free to still use any codes that you may have in your possession - i just ask that you follow my ToS on my carrd ( https://fluffycodes.carrd.co/ )
please don't pass around p2u codes with those not authorized to see them - it isn't fair on others who has bought them too!!

will i still be coding? if so, where will i be posting them?
i decided that i'll be hosting any new codes i do on my main account, fluffykweh!
tbh, needing to check here was something i often forgot to do OTL
i'm basically always online my main anyway, esp now that i'm doing up my own oc profiles, so... i'll be easier to reach if needed!

what will i be doing from now on?
i'm still going to be coding. in fact, over the past couple of days i've gave a few old codes of mine revamps!
i'm no longer interested in monetizing what i do with my coding, so i've decided to have all my future codes be up for free use
however, as i said before, i do still have a tos which MUST be followed!! which you can read about on my carrd ( https://fluffycodes.carrd.co/ )

i do genuinely enjoy creating codes for the community, and tbh, it sucked having no fun with coding :(
i really just want coding to be a positive experience again!! both for me and for anyone i interact with

hopefully everything here made sense, for some reason trying to find the words was HARD
i hope to see you guys over on my main!! thank you for reading!!

also for reference/those curious: calpol is a remake/merging of calpol and ultimately / revere is a remake of saccharine / sunshine is a remake/merging of forest and careless!
for the,,,, foreseeable future i guess? i'll only be selling my codes for points
might change the process on how to contact me to buy, but for now, all links and code names have been updated to reflect this change ;v;
i'll also be going on a hiatus, i won't be checking this account as often and whatnot
just a small update!
thought i'd show off some,,,, wips.... i have <:3c just screenshots though!

first, yall can look forward to a free to use relationship tracker!
i just gotta fix some stuff up and i'll be able to throw it at you guys!
bootstrap colours for this one!!

and also.... one im quite lookin forward to! a tabbed layout which will be up for sale! (probs for $3/$4?)
i actually thought i lost it !!!!! i couldnt find it on any of my accounts so i gave up looking and i started to code it again,,,
BUT THEN I FOUND IT!!!!! thank god cause i really liked how i had done it LOL
the tabs (so far) are: landing, about, design notes, and relationships! may add a 5th of misc trivia stuff <:3c
will be custom coloured as usual!

ofc, what you can see in the screenies below probably won't reflect what the final versions will look like! ;v;

i hope everyone's looking forward to em!
no etas for them, the relationship tracker will probably come out first
still got a lot to do for the tabbed layout <:(

but yeah! felt like sharing <:3c

also! im still planning on working on that edit guide
feeling kind of lazy so don't expect it any time soon OTL
I'm currently editing my ToS/ToU (which will be submitted tomorrow!), and I had a thought about making a how to edit guide for everyone (who uses my codes) to use...? would anyone find this useful?
the way I code is very ... repetitive ??? which is something I did deliberately (mostly for myself lol) so it'd work for all of my codes. it'd be a light, easy to understand guide on how to do very basic edits to my codes (editing text and colours and stuff like that). the guide would be universal to my pay to use codes and free to use codes as well
i just !!! want to make sure my codes are universal and anyone can use em, even if you're a beginner who hasn't dabbled in html at all yknow
as a note, this wouldn't be a How To Code guide, just a How To Edit A Code From Fluffycodes guide
the guide will be either in a Google Doc or as a character on th, and it'll be linked inside every code too
please vote in the poll if you'd find it useful! and feel free to comment any feedback too! (also forgive me if none of this makes sense? it's 2am OTL)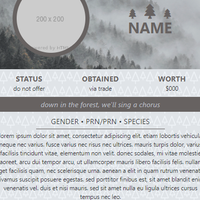 new code's been posted!
was supposed to be an updated version of a code i was using for myself but it looks completely different pfft
i like it though, and i hope yall do too!

those who are eligible for the $3 discount can have the code for free if they choose! just let me know ( Grawrzor // lionsoda )

but the new code is the direction i'm planning on going with my coding, where it'll have a different theme than all looking the same - i'll work on em slowly during my spare time <:3c
plus i don't really like the pink i've been using, i prefer my old pastel pink but :( i dont like how all the codes look so.... similar....

ofc you're allowed to change whatever you want about the code (and any of my codes), as long as the credit stays - so if forests, ain't your thing, thats a-okay >:3c

that's it for this update, not much to say!

EDIT oh yeah! forgot to state that i removed the option to buy with FR gems as my interest has died down (again)
just points or paypal as usual!
https://toyhou.se/fluffykweh/characters/folder:1112499

I KNOW IM A PEST i'm re-writing this--
i've added a bunch more characters ufs!

NOTES
• all characters in the above folder are up for sale for points only!
• you can try and offer art instead - just provide examples + your offer the comments!!
• not looking for characters!
• please be ready to send asap
• i won't do holds (unless you offered art ofc)!
• no haggling! these characters are already really cheap

and there's some characters in here that i'm looking for art/maybe characters for
https://toyhou.se/fluffykweh/characters/folder:1112500

those who purchase a character from me (thru points or trade) will receive one of my p2u html's of their choice for free!
• any code from here: https://toyhou.se/fluffycodes/characters/folder:857734
• you won't be authorised for the html until the transaction/trade is complete
• it's only once per person! you can't come back and get Another code from me
• i'll get your code of choice when i confirm everything with you :3c
hopefully that makes sense, lmk if it doesnt LOL idm clarifying anything

lmk if you have any questions ;v; !!
please reply back to my main account so i can see your offer/comment!
show me profiles of yours that you're proud of!!
can be anyone's html and can have css or not idc!
and feel free to show me as many as you want, i probably won't read profiles but i'll take a look :'3c

i'm in the process of trying to do my own character's profiles but i'm struggling, as usual, with the html OTL
i keep changing my mind and editing my template!!

so show me what you've got!
kind of back!!! was itching to do some code stuff so :'3c
college is going fine! nearly done with assessments and my stress levels are going down At Last! :)
ty for those who commented on my last bulletin and i'm sorry i couldn't respond personally!!! ;o;

here's future updates you can expect to roll around over the weekend!
actual layouts on the code pages will be changed slightly to be a bit easier to navigate (hopefully!)

nothing too fancy, just removing some stuff and just,,, making it easier,,,, y'all'll see!

raw codes will be located on their own character (raw code archive) instead of being With the code they're for (if that makes sense?)
i will be hiding ALL codes while i work on everything, so if you see codes disappear then that'll be why!

if you've bought a code, you'll be able to see it + use it still so dw about that
i intend to start tonight but i have something for college i wanna do first!! so it'll take me a second

i'll POSSIBLY be adding both a bootstrap version + custom version of everything (apart from the 2 f2u's that are bootstrap only) - this will take longer to do and i might not finish it before the weekend is over
maybe one day i'll recode my forum but :) lazy, that'll come eventually
that's it i think ewe i'll post another bulletin when the updates are all done so y'all can give me feedback!
college has me stressin!!! assessments are coming up over the next few weeks and my anxiety has been all over the place recently
feel free to still send me messages about buying codes or if you need help just.... i won't be responding or checking here for a while :'3c
ETA for my return will be at MAX by the 21st of november!!!! might be earlier than that though!