About
---
hi i use it/rot/decay pronouns ty
cause of health stuff i may not always be able to reply quickly or with high energy. you're always free to tell me if i'm being bad at conversation, i don't mind!! also, PLEASE do not use tone tags with me outside of /j, /s, /hj, /lh, and those sorts. do NOT use anything related to /gen, /gq, /nf, /nm, /npa, etc with me
i do a lot of gift art!! if your character has a design i like and especially if they have a story or personality to go along with them i am very likely to draw them!! please credit all art i do of your characters to this Toyhouse account, regardless of where you post it to. additionally, i am VERY willing to draw SCP, Welcome To Night Vale, Don't Starve, or Fallout 4 fancharacters. PLEASE send me a message if you have characters from these franchises and i'll do my best to draw them for free!!
quick info abt me: white-coded Metis, two-spirit, polyam, disabled, system host! i'm totally okay to talk about this stuff but i am not going to discourse on like, anything. trying to argue with me will get you blocked because i do NOT have the spoons for that
please do not copy my characters! they are all important to me. however, if you are kin with or an introject of one of my characters, that's totally okay with me!! all that i ask is that you don't try to dictate how i write, draw, or develop my characters due to being kin with or an introject of them
lastly, my fursona is a deer, not a mouse. thank you, every family friend and teacher who i have shown my fursona to, for making me say this
Commissions
OPEN!! HIGH PRIORITY
Trades
OPEN, LOW PRIORITY
Requests
OPEN, LOW PRIORITY
Latest Bulletin
---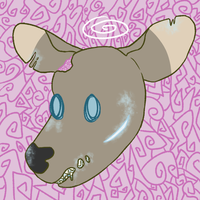 man it's almost Art Fight season isn't it
i likely won't be as active this year as i am most years as my partner is coming here for all of July!! they live in another country so i'll be wanting to spend as much time with them as possible. i'll also be preparing to move to another city and make sure i have everything in order before starting university
that said, i do plan to update references for at least my main characters. so far, Phyllis' is in progress, and i have plans to do Zachary, Martin, Opal, and of course, Hudson. it's not a guarantee that they'll get updated references in time for July though, as i'm graduating high school this year and thus i have to prepare for those big end-of-the-year tests as well as getting the last of my schoolwork handed in
i'm nonetheless excited for this year's Art Fight and hope to see y'all there!!!