About
---
my pronouns are used as it/its/itself, rot/rots/rotself, deca/decay/decayself, and 🦷/🦷/🦷self! please do not use any other pronouns to refer to me, including they/them! you may see people referring to me with he/him; please only do this if i give you permission to do so!
i'm physically disabled, chronically in pain, chronically fatigued, autistic, ADHD, schizospec, and i've got various other mental stuff going on! because of this, i may not always be able to reply in a timely manner or with a long response. please be patient with me, i appreciate it!! you're always free to tell me that i'm being too low-energy in a conversation though, or that you need more clarification on my tone or what i'm explaining, regardless of our relationship level, especially as i do not typically use tone tags. also, do not use /gen tags with me, please!
i do a lot of gift art!! if your character has a design i like and especially if they have a story or personality to go along with them i am very likely to draw them!! please credit all art i do of your characters to this Toyhouse account, regardless of where you post it to. additionally, i am VERY willing to draw SCP, Welcome To Night Vale, Don't Starve, or Fallout 4 fancharacters. PLEASE send me a message if you have characters from these franchises and i'll do my best to draw them for free!!
misc info about me: i'm Metis but white-coded, i use a rollator or cane in my daily life, i'm two-spirit and xenogender, i'm polyam and queer, and i am the host of a plural system! you're totally free to ask about any of this or talk to me about it, but please, do not start discourse with me! i have very low spoons as it is and i do not like to argue. if you come to me looking for an argument i will likely block you without saying anything
please do not copy my characters! they are all important to me. however, if you are kin with or an introject of one of my characters, that's totally okay with me!! all that i ask is that you don't try to dictate how i write, draw, or develop my characters due to being kin with or an introject of them
lastly, my fursona is a deer, not a mouse. thank you, every family friend and teacher who i have shown my fursona to, for making me say this
Commissions
OPEN!! HIGH PRIORITY
Trades
OPEN, LOW PRIORITY
Requests
OPEN, LOW PRIORITY
Latest Bulletin
---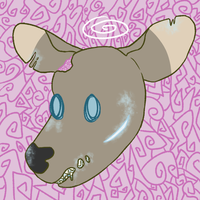 yeah i got a sheezy.art lol. maybe send a follow or some likes my way, mutuals are pretty much guaranteed an accepted friend request but feel free to send one if you aren't, if i've seen you around i'll accept and whatnot
and yes, free art. if i did doodles of y'alls OCs with those expression memes would you guys be interested in that? idk if they'd be sketches or lined or coloured or what, it depends on energy and time, but expressions are something i'd like to practice