Hello! I got this angel a few months back, but once again I'm having trouble with coming up with new plots, so I'd really like to see if I can get something more inspiring _(:3/
here he is!!
I am only looking for dreamies!! Since I use them the most honestly, I'm sorry sldkjg
No MYOs please >_< feel free to comment or PM!
WOW TRADED REAL QUICK TY....
Hellooo, after a falling out with some plots, I have several characters with no plots or pairings. And while I'd love to rewrite them into other roles, it's starting to be overwhelming to think of something new for a lot of characters. So, after some time I'm wondering if I can find new dreamies that'll inspire me _(:3/
https://toyhou.se/izu-min/characters/folder:858437/tags:1/tagged:swap you can find them here! I'm ok with comment or PM. I'll try my best to respond, sorry if I take a while I might forget!!
Oh, something I forgot to mention. I'm in no rush to swap, so I might have this up for a while. Enoch, Sidra, and Wynn I'm a little more attached to than the others, so sorry if I seem picky with them TT
SWAPS ONLY. Please do not ask if I'm looking for anything else. I'll make an announcement if I am.
-------------
I also have other designs up for trade/resale! https://toyhou.se/izu-min/characters/folder:858437
So, I've been interested in getting those body figure models for artists and possibly hand models as well. Does anybody have any recommendations for good ones? I've never had one before. I'm looking them up right now and I know there's body-kun and body-chan that comes with a lot of accessories but are they good? 
I'd appreciate any feedback!
WIPs of some upcoming Lunares for auction!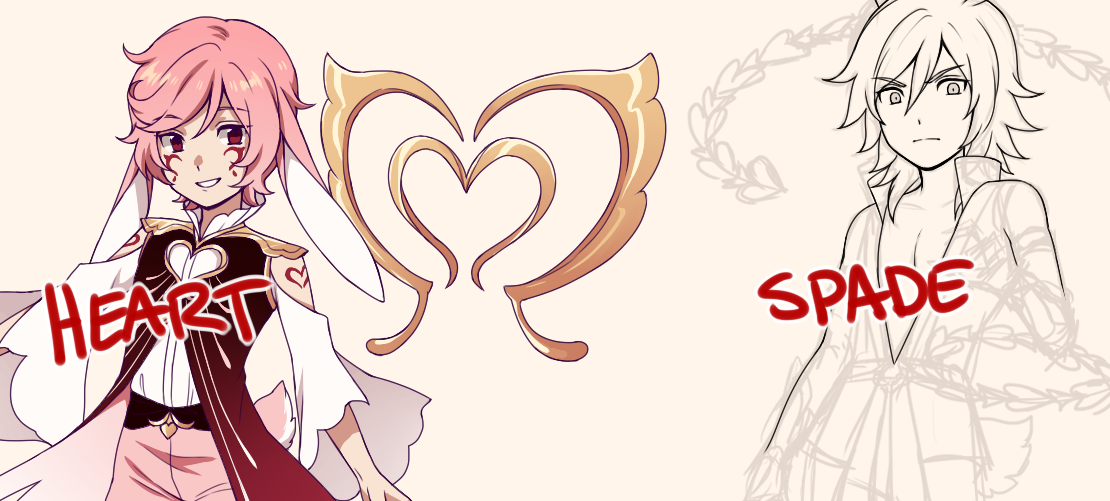 Since the first one was diamond, I thought I'd make heart and spade too idk what to do with clubs sldkjg
I'm interested in getting Yuki and Kaname \o/
I'd love to see examples if anyone is open or if you know anyone. You can comment or PM me. Please be ok with drawing size difference and muscley men dslkgj 
It's come to my attention the amount of people who resell adopts with the claim that it'll come with a mini commission slot by me. And while I'm not against this so long as the buyer is willing to pay the price of the mini, I realize it's something that can go under the radar since I rarely get anyone telling me they've resold/traded an adopt they had commissioned me to draw. So far I've gotten one person to confirm with me, but I'm concerned there's more?
To clarify, this only concerns unfinished minis from my current queue, which you can view here. These are the only people who should have a mini slot in waiting right now. If anyone has sold an adopt with the addition of the mini price, be aware that mini doesn't belong to you anymore!!
If you've received an adopt recently and paid extra for a mini slot that's on its way, please PM me! I'd like to know the adopt, the person you bought it from, and proof of this transaction. Thanks for reading!