helo, i'm kye. i make profile codes for toyhouse sometimes, and i store them all here.
coding customs are open as well. click on the shopping basket to learn more.
if you need help with my codes, please message me on my main kye, or post in my coding thread for the fastest responses.
---
tell me everything that happened, tell me everything you saw.
Latest Bulletin
---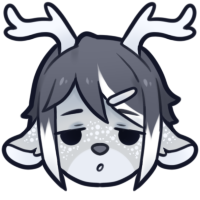 hi guys! with dA's full switch over to eclipse happening like...today? yesterday?? idk time isn't real. anyway, the old links to access dA point payments for my p2u profiles all broke with the forced eclipse transition, but i should have them all updated now. i am still accepting dA point payments at this time, and should i decide to stop accepting them, i will make an announcement in a new bulletin.
thanks for all your support, everyone!