Mewhaku (Mew)
Emotional Questioning Escapist
About

Hello, call me Mew! I'm 28. I use she/her.
I Own Two Closed Species: Paralogos + Whifflings 
Paralogos and Whifflings have their own website- World of Lingua.
If you have any questions or comments for me let me know.
I have moved a lot of my WIP or less active characters to mewden here on TH, but I still own them. If I have a character in favorites, usually means they're inspiring to me! If they're in the Paralogos/Whifflings folders, I just like seeing what people do with 'em. Makes me happy seeing all of 'em. :D



Themes / Things I Like

- Mythology and Folklore
- Cyber-related isekai stories (dot hack (.hack//) & Log Horizon)
- I'm a huge fan of series like Mushishi and Mononoke.
- I like natural colors and inspirations in character designs.
- Nausicaa and Princess Mononoke have some of my favorite instrumentals.
Credit for Profile Coding- Profile Coding by Wicked


Art Status

Notice

Currently working full-time. eBay guru of sorts & treasure hunter.
I generally respond within 24 hours.

Links

Find Me
Latest Bulletin
---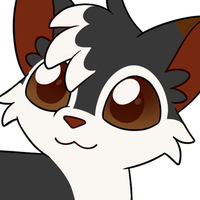 Figured I should write these down somewhere, I'm gonna work on editing and linking to my Carrd. [so this is gonna be blank right now]
Things I LOVE:
Nekomata/Bakeneko themed designs, aka cats with split tails or ghostly cats with inspiration from Japanese mythology.
Calico or Tuxedo Cat Patterns
Simpler Patterns/Markings
Natural-esque Colors [blacks, browns, oranges, whites, steel blues, reds, golds, lavender...]
Halloween / "Fun" Gothic themes [Think: The Nightmare Before Christmas, Coraline, Scary Godmother, Beetlejuice *animated series*]
Ginkgo Leavestm - my brand
Steel Blue / Blood or Dark Red / White Color Scheme [I... really love those.], Also Black / Red / White, Black / Orange / Gold, similar dark or cool tones with brighter accents.
Dragons, also dragon-type/membrane wings on creatures. I like simpler dragon designs overall, especially white ones with blue eyes.
In terms of film/anime aesthetics, I very much enjoy all Studio Ghibli films [Spirited Away, Princess Mononoke, Nausicaa, and The Wind Rises are higher favs.] and the series Mushishi and Mononoke.
In terms of video game aesthetics, I tend to really enjoy a lot of Monster catching titles [Think Monster Rancher, Dragon Warrior Monsters, Pokemon, Nexomon, Digimon, and more.]. Maya and Tiger [Monster Rancher], Rainhawk and Sabrecat [DWM], Mew Espeon Typhlosion Reshiram [and so many more Pokemon], (all of the cat themed Nexomon) and Basil's line (dragon) [Nexomon], Holydramon and Gatomon are great examples of monster/character design I love. I love titles like Ni No Kuni, and the Dot Hack series [particular GU - and the character Endrance, Mia, and Haseo.]
Things I LIKE:
I do LIKE gradients but they're hard for me to shade, so they need to stay relatively simple.
I do like non-natural colors, but they need to have some type of scheme where they don't clash horribly.
I like the IDEA of plant / flower themed designs, but they can be hard for me to draw. I like Lily of the Valley flowers quite a lot, and hydrangeas!
I do like semi-complex patterns, as long as again there's a reduced amount of colors in the full palette, or its restricted to part of the body.
I like dinosaurs and canines less than dragons and cats but I still like 'em!
I'm OK with some anthropomorphic designs but I do struggle with drawing them at times depending on the design.
Things I Dislike:
Super complex patterns/designs [I do own SOME but I like easier replication for drawing purposes, unless I'll mostly write about a character]
A design that's completely high saturated colors/neons [These are fine as accents!]
Designs with gore/NSFW elements [just not for me, some light body horror is fine]
Food is OK design wise, but I'm rather picky about it. So it is in dislikes.
It isn't that I dislike human characters, I just don't prefer drawing them.
Complex accessories are hard for me, simple please instead!
Uh
yes will add more over time.
Recent Characters & Designs
---