missDevichi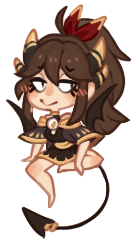 credit
heyo, i'm mostly found on my deviantArt. To commission me feel free to visit my site.
If you own any of the characters I designed or art I've drawn, feel free to credit my toyhou.se or deviantArt.
I usually link to deviantArts for creators/designers/artists out of habit. If I own one of your designs/works and you prefer your toyhou.se or another link, let me know!