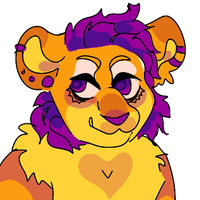 Information / TOS
I can do sketches, icons/headshots, busts, waist-up, fullbody, or chibi for humanoids, anthros, and ferals. Anything outside of human/anthro/feral I can attempt, but make no promises. I also will do custom design trades, if you give me an idea of what you want. You can find examples of my art at the end of this bulletin.
I do not trade my characters unless I have said otherwise about a certain character or it is a custom design trade.
When I've finished my side, I will upload it and add it to your character's gallery. You can feel free to do the same with your side, or DM it to me or whatever else works best for you.
I will most likely finish my side of the trade within a couple of days of confirmation of agreement. I may take longer due to uni work or if something comes up irl, so please be patient, but I will not take over two weeks.
I enjoy bright colors and sketchy or expressive lines. I like to play around with color, let me know if I can take some liberties with color in our trade! I will assume you would rather I color-pick otherwise.
This bulletin is mostly for my own personal reference to keep track of the art I've given and received as well as knowing who is trustworthy to trade with, but also serves as a testimonial to my reliability with trades. I also keep the in progress trade tracker regularly updated, so if we are in progress of trading feel free to keep an eye on it.
Completed trades
Offers, not followed up on
Free art, not followed up on
In progress trades
| | | | | |
| --- | --- | --- | --- | --- |
| | | | | deadline |
| | free custom | n/a | ? | n/a |
| puppyyawns | 2 pagedolls + 2 busts for percival + luna | complete | complete | n/a |
| endie | 5 icons for 2 fullbodies | complete | complete | march 16 (tues) |
| goldenshrooms | custom + 1 extra art | complete | ? | march 24 (wed) |
Art examples
Humanoid
Anthro
Feral/Other