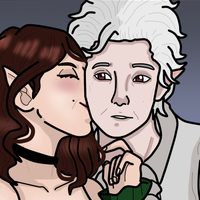 Looking for artwork of both ocs and oc x canon pairings. 
Rules: 
Dos: 
- I draw fandom characters and original characters
- I can draw furry characters - (Besides Birds or Horses or reptiles ) 
-  I can draw couples (LGBTQ+ couples included) 
- I accept fair trades 
Don'ts 
- I don't draw other ocs or canon characters with Cullen Rutherford or Alistair Theirin from Dragon Age. 
- I don't draw mecha, cars, fnaf, mlp or sonic
- I don't draw fetish artworks or NSFW (Nudity is fine if your character is 18+) 
Artwork I'd like to get: 
Couple wise: 
Alone characters
https://toyhou.se/10106219.-d-d-sona-rynnie 
If you are interested please fill out this form below. 
Username: 
Type of Trade: (Couple or Single character) (Chibi - half body - fullbody) 
Examples of your work: (Not needed if you have traded with me before)
Which character(s) you want me to draw?: (Full body - full colour references only please) 
Which character(s) of mine you are going to draw?: