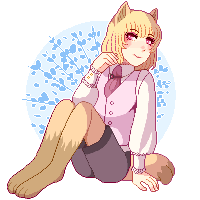 About
man door hand hook car door

✂ —— Caine | 25 | Male (he/him) | Leo | Finland | Literature major
☆ tumblr ☆ twitter ☆ dA ☆ other sites ☆
Hello I'm Caine and everything I know about human interaction I learned from shoujo manga. I really like to make friends so don't hesitate to talk to me especially if we share common interests like vintage manga or musicals or something! I study literature in a Finnish university and my special areas include classic literature, history and psychology. I suck at talking about myself as opposed to talking about my interests but given how much I overshare you'll probably get to know me in no time
I'm both an artist and a writer but I usually end up drawing a bit more, but both are equally important hobbies to me and they kind of come hand-in-hand either way. I like to draw OC stuff a lot and I also make adopts usually at least once a month, so you rarely see anything but those coming from me haha. I'm also currently working on a visual novel called Sinfonia and I talk about it all the time so if you're curious about it you can read more from here. 
My mission in life is to say a lot of nice things to others and that's why I tend to type a lot in forum games and I'm so sorry about that, I don't mean to intimidate people!!
Things I like


✂ General things:
History, mythology, folklore, vintage manga, creepy stories, weird conspiracy theories, writing, drawing, musicals, theater, fairy tales, vintage book illustrations, classic literature, classical & choir music, lions, camping, hiking & urban exploring
✂ Fandom things:
Shounen Note / Digimon / Rose of Versailles / The Heart of Thomas / Empire of Corpses / Poe no Ichizoku/ Devilman / Star Stealing Prince / Romeo's Blue Skies / The House in Fata Morgana / multiple Moto Hagio & Keiko Takemiya series not mentioned here / Ni no kuni 2 / Vinland Saga / Berserk / Banana Fish / Dankira!!! / Bloodborne / The Magnus Archives

I like plenty more but I feel like these give a good idea of my interests and the general aesthetic I go for. My anilist is here!
✂ 5 book recommendations
Hermann Hesse: Demian
Henry James: The Turn Of The Screw
William Shakespeare: Hamlet
Madeline Miller: The Song of Achilles 
Umberto Eco: The Name of the Rose
Behold
F.A.Q


I have moved this section to my profile!