Feel free to message me here or at DeviantArt with questions and ideas. If you prefer to use forum threads - welcome, there is my commission thread.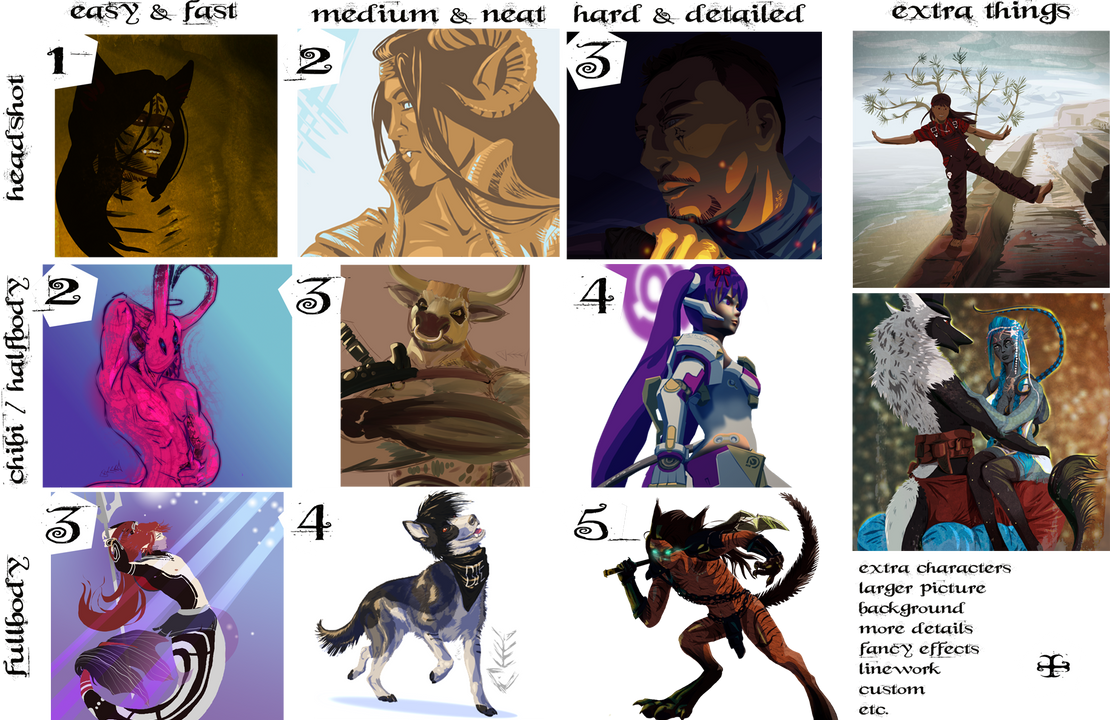 1) I can make an adopt design - send me your custom ideas and references. 10-50 USD, depending of detalization and difficulty.
2) I can make a custom design, a portrait of your character or / and SecondLife avatar. Or an illustration from your RolePlay*. 
How much? - just look at the numbers near the samples: they show difficulty levels. 
FOR NOW the Number  x7$ = price
For example, a customer wants "simple and fast, face only", it is marked with "1", so it costs 1*7=7$,
or a customer wants "fully detailed and accurate fullbody", it goes with the number "5", tnen 5*7=35$
What about "extra things"?
Pictures size. Normally, I give my customer pictures 1024px on the widest side max. If you want a bigger size, it will add a level. Much bigger size adds 2 or 3 complexity level, negotiable.
Each character demands efforts, of course (and the extra_character's_difficulty counts according the same table), just like all the fancy effects or difficult angles of view. And I hate doing neat linework, so - it costs more.
Backgrounds are pain, but I love to show characters in some scene. Feel free to ask with a sample from my gallery.
*
ATTENTION! *my NO:
I don't take themes of nudity, or torturing, or something sexual themed, NSFW (ask apart), fetishes, offensive and hateful themes.
I don't do refunds if I started a commissioned work.
I don't haggle.
I don't work with many customers of a single picture.
I don't do free redraws after sketch approval.
I refuse if I don't comfort with a theme.
PAYPAL only.
Payment - or in advance, or after I show a sketch for an ordered picture, or 50% beforehand and 50% after sketch approval. 
Donations are welcomed.
Commissioned work is for non-commercial purposes ONLY (unless otherwise negotiated before any works).
You may repost my art to other sites only if I am credited there.
No free changes after a presented sketch was approved. No free additions.
Extraordinarily complex designs cost extra.
I may post a smaller, watermarked version of your commissioned piece on social media (negotiated if you don't want it before, for example, publishing your novel).
Commissions that have not been started can be refunded. Completed commissions may NOT be refunded.