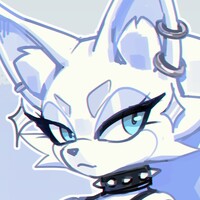 A CLOSED SPECIES BY SMOOSHKIN
LORE
Wildren are fae creatures with the purpose of watching over the various spheres of elemental, mystical and natural magic of their world. While every Wildren is naturally attuned to a certain element of nature at birth, their strongest attunement is dictated by the element they are surrounded by or most powerfully drawn to in their formative years (usually the first 10 years of their life.)
It is said that the Wildren are descendants of men, elves and other races that used druidic magic to fight back ancient evils thousands of years ago. Other stories say they are permanently caught between human and werewolf transformation and that it was spread as a magical curse resulting from overuse of such powers.
ATTUNEMENTS
Attunements may be general in scope, or very specific. While some elements are considered sub-elements of others, the Wildren is considered attuned to the sub-element.
The mere presence of a Wildren near their physical attunement keeps the balance of nature in tune. A Wildren is happiest near a physical manifestation of their element.
Crystal - Minerals, Crystals
Earth - Stones, Gems, Sand
Water - Oceans, Water, Rivers
Sun - Sun, Sunlight, Warmth
Fire - Ash, Flames
Steel - Metals
Life - Healing, Growth
Death - Rot, Decay
Stars/Moon - Stars, Starlight, Moon, Moonlight, Space
Abyss - Darkness, Deep Sea, Void
Crows - Literally crows.
Hollow - Nothingness, Dust, Emptiness. This is extremely rare and is currently the only attunement that is an Exotic trait.
And more.
HOLLOW
The "Hollow" is a curse of emptiness and entropy brought upon all worlds the Wildren inhabit. It seeks to turn all elements into nothingness. A Wildren "Cursed" with the element of Hollow is not strictly bound to the will of the Hollow and can not spread it themselves except in cases where the Wildren has chosen to learn how (however, it is known to "speak" to them at times). Though they are often looked upon with distrust, they are just like other Wildren, though their skin and pelt is desaturated. Their eyes are always silver or red.
An element touched by the Hollow will turn to dust. The older the object, the longer it will take, but it is destined to crumble. Wildren scholars and magic-crafters study relentlessly to find ways to combat or cure the Hollow.

In places where the Hollow has taken over completely can occur an anomaly known simply as the Nothing. A rip in space time similar to a black hole. No one has ever come back from entering the Nothing and so no one knows where it leads.
ANATOMY & TRAITS
Wildren resemble adlets from mythology or, more colloquially, resemble "wolf-fauns". Their torso appears mostly humanoid, with their limbs being covered in fur. Their legs are wolven (or feline, depending on who you ask) in appearance. Most iconic are their fluffy manes growing from their upper back and shoulders. Most Wildren have a mane, but many may choose to clip theirs short.


CULTURE
▲ Wildren who have chosen to live in modern settlements or cities and leave the wilds behind are called "pets" (And sometimes 'primren') by wild Wildren. It's often derogatory.
▲ Likewise, "Wild" Wildren are called often called 'feral' by city-dwelling Wildren.
▲ Naming Conventions; Wildren first names can be nouns, exotic and completely fantastical or relatively mundane. Surnames are often nature related. (e.g. Hightail, Redweather, Silverclaw, Falconer)
▲ Wildren are very sensitive to dominance hierarchies. It's common to be respectful of those in authority, but it's equally common for power-clashing to occur. In other words, your ability to be proficient in what you do is judged highly in your respective community.
▲ It is often trendy to clip your mane, tail or fur in various styles.
▲ There is no centralized government or true royalty (though Wildren may self-proclaim themselves) among Wildren. Instead, they ally themselves into groups of hierarchies that ultimately are led by an alpha (or alpha-prime if it is especially large.) These "packs" can function like tribes, corporations or companies, militaries or communities and might only sparingly cooperate with each other.
▲ Vallencourt, once the city of light elves, has since been swallowed by the Hollow, resulting in their population moving in with the dark elves of Netherrath. The tension has eased over time, though scholars work tirelessly to try and recover the crumbling city.
THE GARDEN WORLD
FAQ
Q: Do you do customs/MYOs?
Yes! MYO events happen every so often.
I take customs in very limited numbers.
Q: Do Wildren have a canon world?
Wildren originally come from a place known as "The Garden World."
They are able to leave by any magical (or technological) means, but many choose to stay.
Q: May I use my MYO to turn an existing character into a Wildren?
Yes, you may.
Q: Can my Wildren have horns/wings?
Currently only Djinn bloodlines possess horns and wings.
Q: Can my Wildren be intersex/nb/whatever?
Your Wildren can be anything you want.
Q: Are Wildren included in the species benefits on your Patreon?
At the moment, no. They are completely closed and are not one of my Patreon-open Species.
Q: Can I resell my MYO ticket?
Yes, you may always resell your MYO tickets for the price you paid. Designed MYOs follow my regular TOS.
Q: Can I draw their digi-legs more humanoid?
Yes, I'm not strict. Provided they are still furred so as to align with the species, you can make the legs more plantigrade/human.