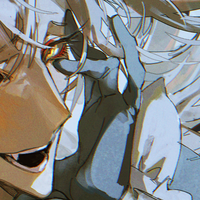 - CLOSED -
Winner is Tofanello via a random choice selector!
---

Thank u sexies for 100 subs.... I'm glad people like my stupid, stupid little anime men
To say thanks I wanted to offer a giveaway! From now until November 15th, 2021 at midnight PST (my birthday) y'all can enter! I'll be taking entries via voting in the poll attached. Please note the following:
You MUST be a subscriber to my account to enter! I'll discard your entry if you're not. No burner/side accounts, please.
You must be ok with providing your address to ship items to you if you choose the charm option! If your charm package is returned to sender for various reasons (IE wrong address) I will not be re-sending them.
I cannot ship to countries currently in the USPS shipping suspension: https://about.usps.com/newsroom/service-alerts/international/welcome.htm
Please don't be that guy and ask for your prize to be something not included the post LMAO
One winner will be chosen! I'll DM you asking what you'd like and for your address if you choose charms, otherwise I'll send you a voucher code.
If chosen you get to pick:
- One of these little boys:
+ Some buttons of my Boys that I'll add at random! Shipping will be USPS First Class and will have tracking in the US and some other countries.
OR:
A 10 USD voucher to my Etsy store to use on anything! Shipping won't be free in this case, but your voucher will never expire. All my Etsy rules and stuff apply over there.
---
That's about it, let me know if y'all have any questions! Thank you all so much for the support!!
Shares are also super appreciated!