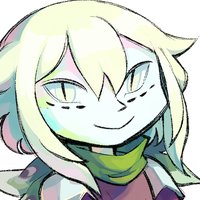 Artfight
...And, just a little bit late to the party, Artfight is now over! Though I fizzled out near the end, I enjoyed the event a lot and it was nice to have an excuse to draw some fanart and bump into some cool new artists. I still have some revenges I wanna do, but those will be on the backburner for now while I replenish my Art Energies. SOMEDAY, though!
But also. I'll now, finally, be uploading the attacks I received during the month! \o/ Please enjoy this bomb of fanarts, because I do.

Tumblin'
Now what else have I been up to lately.
Well I made a tumblr. I'm mostly using it for character stuff, following some prompt blogs, doing meme shit, and occasionally reblogging setting inspo photo things. I'll probably upload some sketches or doodles on there too that are too slapdash to go on profiles. I'm not sure how active I'll be on it overall, but hey it's a thing that exists now.


Template Update
So I've had premium for a little while now and decided I may as well use it to spruce up my character profiles. That sprucing turned into a whole new profile template, which I've already slapped on Cam.
Ideally, the most important information is now a little easier to find and parse. The big fat story blob now has its own tab with more space. Aesthetic tab is gone since I wasn't using it anyway. Otherwise things are pretty much the same. I'll try to be more timely in moving things over to this template, but if I wind up getting stuck on someone's story and having to plot it all out like with Raum again, lol, no promises. (Looking at you Lisbet, Camille, Trivia/Swift). Hopefully this one will last more than just a few months >_<
Oh yeah, and here's the real crazy thing about this profile. It doesn't FUCKING EXPLODE on mobile. wAOH!
Thanks for reading. Have a good day everyone >:u