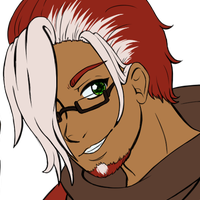 Clean up my folders a bit!
Got rid of a few duplicate characters I had and moved my hidden characters out of private folders. For example, Cooper (in World Of Pokemon folded) has been removed due to his character being a 'proper one' due to Goro the Rockruff existing in Golden Chains.
Started to use the split tab for my characters in tabs so it's easier for people to click on them. Not going to have fun doing that for Bounded World characters x,x
Rearranged a few folders and added a few folders inside some of them so they're cleaner.
Probably going to spend a good 10-20 minutes slapping tags on characters tommorow (basic ones at least) and work on side characters for the P5 fic for my sanity. Need a break from working on notes for Fallen Inferno and Tales of Moon characters >.>
Now off I go to bed at...4 in the morning....oops
Canvas Size: 11.889x11.542 Inch (856x831 pixels)