Please be 100% certain of your  purchase/trade/payment plan etc! Its  super inconvenient for me if people  back out/ghost me after they ask  for a hold/payment plan.


https://toyhou.se/Hunibi/characters/folder:736987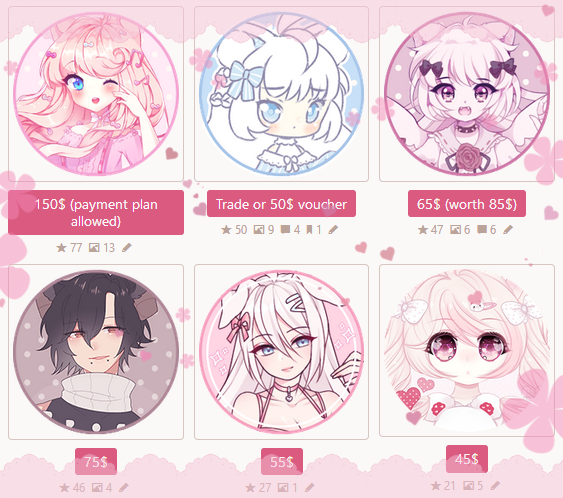 If the character's value is over 100$ you can ask for a payment plan.
People who can pay directly (no  payment plans) will have priority! 

Payment plan info

If  buying with payment plan you'll have to pay the first half now, and we  can discuss about the other half through PM (preferably within 1 month  the other half)
Please do not back out once the  first half is paid because I will not be able to refund you. Be 100%  sure when buying please, thank you ♥ 
**When choosing this option the character will be transferred to you once the payment has been fully made and not after the first half has been received**

Rules for holds

These rules are for holds, and characters that are on hold. Please follow these rules to avoid certain situations.
When asking for a hold you have to be 100% sure of the purchase.

You have to make sure you are able to pay on the day as said.

Do not ask for a hold when you aren't certain you want the character

You  have to agree on reminding me on the day you will pay or have to agree  that I will already send the invoice for the character.

Do not offer on the character if the character is already on hold

Holds can be done for 3 days max. I might make exceptions for trusted buyers, but not for too long and/or too often. Please try to keep it 3 days max.
Trades
If you would like to offer me a trade please have a look at this list please so you know what my interests are. 
Wishlist
https://www.deviantart.com/hunibi/favourites/78366602/Wishlist

Hellooo- I hope you don't mind me commenting here :0c
I saw that you didn't know the artist to this art piece and would like to let you know that they're done by @kurai-aki c: