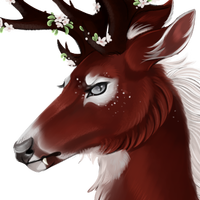 About
---
The sparring competition will take place on Saturdays and Wednesdays, starting from time at the mushroom circle by the statues.
Announcements will be made on the discord server so please make sure you're there if you intend to take part! Sign-up by messaging the host on the day or posting publicly in the server.
With credit to LilKiwi for the writing and art in the first tab. Template credit to Pinky
Sparring Competition
---
Ladies and gentlemen, gather around, for the Spring Rally Sparring Competition is here! Why not get ready for the upcoming Rut by getting a feel for your own strength, as well as the strength of possible future opponents? Or perhaps the Rut isn't really your style? Well no worries, folks, this friendly competition is made for critters of all shapes and sizes! Sign up and step into the ring to test your strength against other participants for some cool prizes and make some new friends along the way~
Rules
---
Participation
To participate, just show up at the big mushroom ring near the playground on the day. To sign up you can message the host on the day privately or post publicly in the dedicated server channel (#competition).

When signing up please tell us:
>Your Character's name
>Their age group (Adult or Adolescent)

You will then be matched up with the next available opponent.
Rounds
After being called up please enter the ring and wait for the host to tell you they're ready. If you are not ready or do not respond we will move on to the next person. When you and your opponent are ready to begin please bow to one another then the timer will begin - It's time to spar for your life!
Spars last for 3 minutes, after this time is up the referee will step in to end the fight. Participants will then make their way to one of the two referee deer and then the voting will begin.
Voting
The winner is decided by the crowd so if you think there's a clear winner it's time to step up and make your voice heard! Please make your way to your chosen participant and remain there until votes are counted, if your character is NOT there when votes are being counted their vote will not be considered. There will be a ~2min period for you to cast your vote before the winner will be decided and they move on to the next round until the overall champion is decided. In the event of a tie both participants move forward.
Etiquette
As this event can be quite stressful and fast-paced for the hosts we please ask that you make sure it runs as smoothly as possible!
When participants are fighting we ask you not to enter the ring, in the event that a nameless or fawn makes their way in we ask that fighting stops until they move off.

Similarly when voting we ask that you don't move around too much or sit your character down next to the referee if you are not voting as this can make accurate vote-tallying difficult. Votes from nameless' and page-not-found deer will not be counted.We also ask that you don't simply vote for your friend or their character every time as this leads to an unfair matchup. Have a little creativity - is your character more partial to the big guys or the little ones? Did you notice someone stepped out of the circle during the event? Did someone appear to land more blows?

While it may be in your character's nature to hold a grudge - or perhaps they're not on best terms with their opponent - we ask that you do not detract from the friendly nature of the event. Do not carry on fights for longer than necessary and do not create an IC scene at the time of the event. If you cannot adjust your character's behaviour or there is a good-chance their presence will create drama please do not enter them. Thank you for your understanding.
Adult Rounds
---
DAY 1
Round 1
Oromë vs Alan - Oromë WINS
Hector vs Menace - Menace WINS
Ezio vs Iva - Iva WINS
River vs Para - River WINS
Dorian vs 003 - Dorian WINS, 003 runner-up with most votes
Round 2
Oromë vs Menace - Menace WINS
Iva vs 003 - DRAW
Dorian vs River - River WINS
Round 3
Menace vs Iva - Iva WINS
003 vs River - 003 WINS
Round 4
DAY 2
Round 1
Artemis vs Zagreus - Zagreus WINS
Alighieri vs Para - Alighieri WINS
Round 2
Alighieri vs Zagreus - Zagreus WINS
Adolescent Rounds
---
DAY 1
Round 1
Name vs Name - NAME WINS
Name vs Name - NAME WINS
Name vs Name - NAME WINS
Name vs Name - NAME WINS
Round 2
Name vs Name - NAME WINS
Name vs Name - NAME WINS
Round 3