[CLOSED] 💝Ikemen & Chibi Commissions [SFW]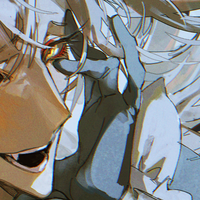 **Please note!**
Commissions are closed as of July 2021 for health reasons (conditions worsening). I'm unsure when they'll be open again, but I'll keep all my info updated!
The below info applies to when they're open.
If you have any questions about closing or my pinglist, feel free to send me a message or email!
---
Heya! I'm open for commissions!
This is my SFW thread. For more mature commissions, you can view my NSFW/Guro thread here!🔞💉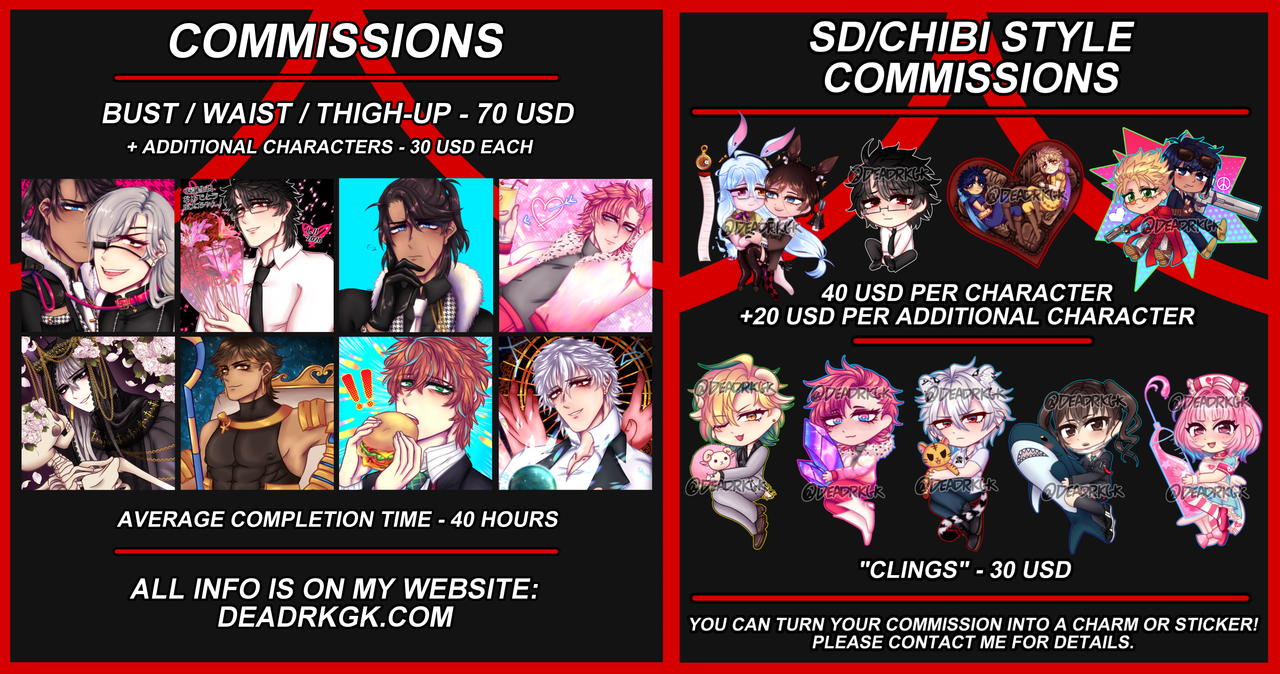 ⭐ All my detailed info, additional contact, form and etc are available on my website! ⭐
I recommend filling out the form on my website for a commission! It helps me keep track of all your info.
Some examples:
(You can click on them to enlarge!)
Finished commissions for TH users:
⭐ More examples of my art: Deviantart - Pixiv - Instagram - Twitter⭐
Pricing:
Bust / Waist / Thigh-up - 70 USD
+ Additional characters 30 USD each
Bust / Waist / Thigh-up is all for a flat price. Feel free to ask for any of those specifically. I default to thigh-up.
---
SD/Chibi style - 40 USD
+ Additional characters 20 USD each
---
"Clings" - 30 USD
These operate on a YCH-type basis with the same pose. Let me know what you want them to hold!
---
Other commissions are done on a case-by-case basis. Please ask!
Want your SD commission to be on a charm or sticker? Please ask about your options!
Average charm price is about 10 USD a piece (double sided, epoxy finish). Different finishes are available! My Etsy shop has examples of how they look.
WILL DO:
✓ Fanart, OC's, self-Insert, etc.
✓ NSFW
✓ Shipping
✓ Blood / Guro (Gore) / Body-Horror
✓ Backgrounds, simple or elaborate
✓ Almost anything, feel free to ask!


STRENGTHS:
✓ Men, specifically muscular builds
✓ Darker color palettes and themes
✓ Bunny suits, maid dresses
✓ Blood, guro
✓ NSFW of men
✓ Long hair





WILL NOT DO:
✗ Anthro / Furries
✗ NSFW content of underaged characters (under 18), shota / loli
✗ I will not "age-up" underage characters for the sake of NSFW art
✗ NSFW of any real person
✗ Noncon
✗ Discriminatory art of any type
✗ Art of characters from: My Hero Academia, Attack on Titan, Danganronpa. Final Fantasy XIV characters are tentative depending on detail level.


General info:
-Digital art only.
-PayPal payment beforehand only.
-All commissions come fully colored and rendered / painted unless specified.
-You're free to edit my finished art for you as you see fit. If I miss something while drawing, please let me know! I'll fix it for you.
-All normal commissions come with a background, though complex backgrounds may cost more. SD commissions come with a transparent background and colored outline.
-NSFW is welcomed, but you must be 18+ to commission me for it. NSFW means "Not Safe For Work" which includes but is not limited to graphic depictions of nudity / pornographic content.
-Commissions will be finished within a month/30 days of the invoice date. If they aren't finished by then, I'll send out a refund. I may require an extension (due to health or a long commission queue), but will ask beforehand. The maximum I'll ask for is an extra 30 days.
-I cannot accept refund requests from the commissioner if I'm in the line-art stage!
I would like to also note: I'm very chronically ill and it affects my hands. It can take me a while to draw due to pain and to prevent permanent injury. Art is most likely to be done in the middle/end of the 30 day period. Please let me know if you need it done by a specific time/date and I'll do my best to get it done for you before then.
If you have any questions, feel free to comment, send a DM, or email me! Thank you!