[feral] commissions - OPEN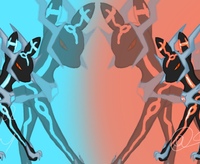 Hey all!
I currently looking for some characters to get into commissions.


They will be only sketches/ lined but flat colored for now. I might change that in the future, when I can handle to get more time. I do have a fulltime job and some classes in the evening, so please consider that.

I accept USD/ EUR as payment but ask, if yours is a different currency. And it's literally a PWYW.
For $5/5€ you will get a flat colored full body sketch and eventually a simple background.
Will Do
Feral/ Animals
Won't Do
Anything else, not listed under the Will Do section.
I will try most of the feral/ animal section but I won't promise anything.
I also have the right to decline a request, when the character seems too complex etc.


Also please note: I'm working in a fulltime job, so it might take a while, depending on my free time.


examples: fullbody

character belongs to @Markie
examples: halfbody

examples: headshot/ bust

Add-on: extra character/ art + normal price

With requesting art, you agree to my T.O.S:
T.O.S
Please dm me with the following info if you're interested. I prefer to keep commission correspondence through messages on toyhouse. But you can dm me your username and we can also chat via discord. Payment is via dA points atm.
FORM:

Character reference(s):
Commission (headshot, bust, half body, full body):
How much you want to pay:
Extra?:
SLOTS available:
Slot 1 : OPEN

Slot 2 : OPEN

Slot 3: OPEN