🐸Updated! Norkestra's 3D & 2D Bazaar!🐸
Please help me pay rent + feed my kitty!!
My other sale threads: 3D Low Poly Designs - Assorted Characters - Paperdoll commissions
EDIT: I will also do custom Animal Crossing Characters for $5! See this thread for examples: https://toyhou.se/~forums/5866.design-marketplace/88220.-animal-crossing-mystery-balloons-pinglist-
[CUSTOM CHARACTER DESIGN]
Examples of Character Designs I have made: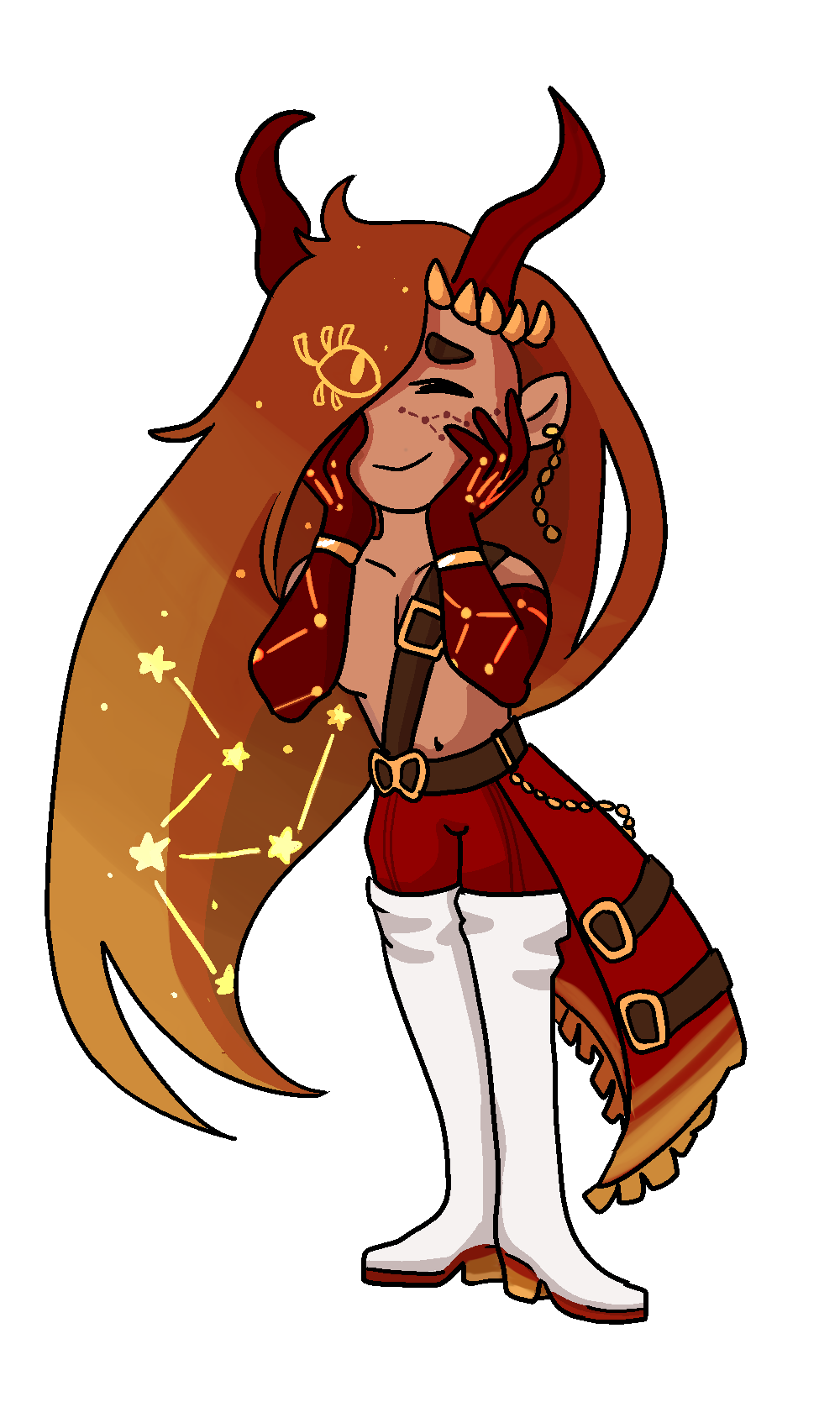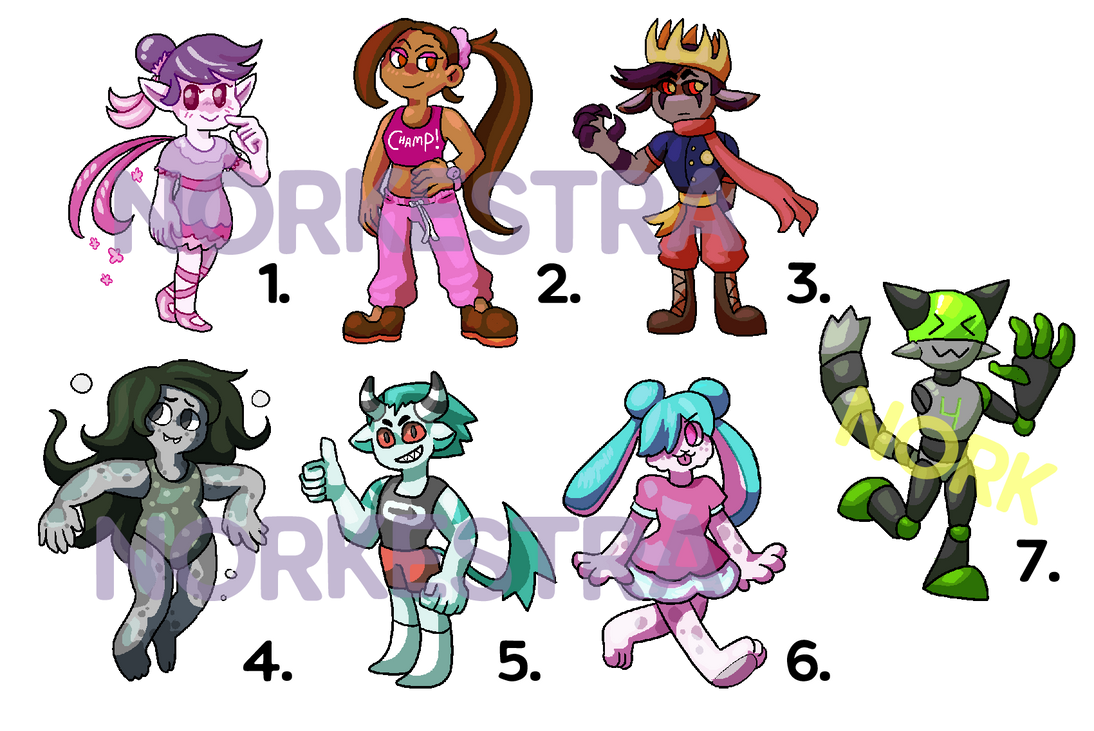 If you want a custom Charater Design please fill out this template!
What are you using the character for?: (For Commercial use such as games, please discuss with me!)
Character aesthetic/theme:
Physical Description/preferences: (Age? Gender?)
Clothing Style:

Anything you particularly like or dislike?:
MORE INFO ABOUT 3D LOWPOLY AND WHAT YOU WILL RECIEVE:
I can make your character in Low Poly form! You will receive: High Quality front and back renders, turnaround animation (transparent!) [ See Example: https://imgur.com/a/zSTZGjf ] as well as an .OBJ and .FBX file (The model itself)
Options:
Rigging: A rig is the skeleton that lets a 3D model move. The above model is not rigged and will come in T-Pose (good for references!) or a simple standing pose. A rigged model will cost $30 extra, will come with full renders of an idle animation, a pose of your choice and the .FBX file (If that sounds steep you've either never rigged before, or are one of the rare people who actually love to do it ;D )
Floppy: I can render physics simulations that make the character flop around! Examples here: https://imgur.com/a/jfCRZEJ (BE AWARE: These are test renders and do not represent the level of quality you would receive) Each gif is $5, or 3 for $10. 
What I can do: Make a character fall, wobble, melt, shrink, fall into a box, rain down with many clones, crash through a wall like the kool aid man, have a blanket fall on them, etc.
What I can't do (Under the Floppy category): Make a character walk, move limbs in a controlled manner, etc. There is little precise control with floppy lol
WIP: Animal Crossing Style Model - $80
I'm still working on my example, but I plan to render the final model out with a similar sheen to what the official models have.  I can stylize any character, a pet, etc! I will send sketches of the design I plan to make prior to modeling.
I will do any species, although for custom parts (like wings, horns, 3D hair, etc) I may request an extra charge. You can send me any image to be the shirt texture!
You will receive the same things as the low poly; a front and back render, a turnaround and the .OBJ/.FBX files.
Rigging: Currently I do not have a rig set up to rig these. If you wish to add a rig, it'd be $20... ten dollars less than the low poly rig! You'd still get a custom pose and idle animation!
Floppy: Not sure if I can make these floppy yet, due to physics constraints and how I model this style...but if you are interested I will run the tests   
If you would like a more detailed 3D commissions, or a realistic weapon/object etc. Please message me. Here is an example of my other 3D work:
I can do payments through Paypal, Venmo, Commissio, and even Ko-fi, which I will link to whoever is interested. Please don't hesitate to message me! I'm most active on Tumblr (  https://norkestra.tumblr.com/ ) so if I don't see your message, please spam me there!
Look at my Comissio for more examples; some categories may be out of date or organized differently than they are here. That's because comissio doesnt yet have a feature to add options like "bust" "full" or "shaded" "unshaded"...yeah it kinda sucks D:  (https://commiss.io/norkestra )
I like to also send in-progress pictures for feedback :>
1. Open

2. Open

1. Mini Taken!

2. Open

3. Open

4. Open

5. Open
FINISHED COMMISSIONS!
Updates:
Current LowPoly model in progress...almost there...
---
Is it censored? No! It's a new possibility for a fun render :D
...With some extra polishing ;)
I was the person who commissioned the LowPoly model of Kliph, and I really can't write a more glowing review! Nork did an incredible job interpreting my character into 3-D, and they were truly a joy to work with, attentive and including me in every step of the way, showing me WIPs and asking for feedback. It was a really enjoyable experience seeing their artistic process, and Kliph was made with so much obvious care and love. I adore the model that Nork made of him, and I can't recommend their commissions enough. c: