Grand Opening
With our opening we are passing out rewards.
Nullius Terram
No Mans Land
Nullius Terram (No Man's Land), the world of Uuxain, a play-by-post animal and creature role play game heavily influenced by fantasy themes. Within our game, you will find that a character's survival is based upon the consequences of their own actions. We purely believe in free-form writing, bringing your character's true nature to life but here they will reap the ramifications of who they are. Each character will create their own journey based upon what they make of themselves and where they choose to place themselves on the ladder of society. You, as their writer, will be solely in the power of their directional existence but the world of Uuxain may counter your choices with its own.
Animal OR Creature – We accept any real (extinct or none) animal OR creature (custom, mythical, etc.) as playable species on our game.
Semi-Sandbox – This game takes place in the world of Uuxain that has just a few details set in stone but the rest is up to you!
Non-Consent – This is a "Non-Consent RPG" meaning a character's actions can swiftly follow with consequences, sometimes there isn't even a reason for facing the brunt of another. We favor in-character realism and being non-consent really gives members the ability to bring their characters' true nature to life. But have no fear! When it comes to physical altercations or something of similar severity we follow our very own SCD system that gives players a chance to remove their character from the situation before it gets out of control.
Survival of the Fittest – Uuxain is a world where danger lurks absolutely everywhere. Due to the nature of this world, and our game's N-C dynamic, characters will live and die. Some may live longer than others and some may pass on to the afterlife long before they should have.
Tabletop – All outcomes, unless agreed upon by all parties involved, are determined by dice.
High Fantasy – Magic, soul shards, afterlife, unrestricted designs, and so much more! We have something to offer in all the aspects we can.
Thinking about joining us but not sure where to start?
If the above works for you and you're really interested in joining us keep going!
Check over the Game Play panel in the sidebar menu for a better understanding of our game mechanics and systems.
Join our discord and get to know your future community members.
Request membership in the sidebar menu. Once approved you will be able to submit your first character for approval.
Mini Updates
---
03/24/2022
We're basically finished. You can request membership now and start building your characters profiles!

03/23/2022
Transfer from self hosted forum to TH world started.
Latest Bulletin
---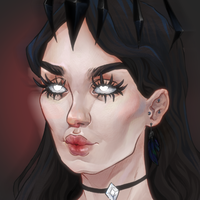 I'm sure many of you have been waiting patiently for this day to come and I'm so terribly sorry to keep you all waiting this long. But I am incredibly grateful for having been able to share my progress and hear about your excitement towards the project!
So without further blabbering let's get straight to the point here.
---
Joining Incentives
These have timeframes and will need to be used within those times, they cannot be saved for use later.
+10 soul shards to any character joined and written with another within 30 days of this bulletin.
+4 non-innate joining slots you can use within 14 days of this bulletin.

Any damned characters should have less than 50 soul shards to be in accordance with the possibility of fated eternal damnation.
Any divine characters should have more than 50 soul shards to be in accordance with the possibility of fated eternal rest.
Advertising Incentives
Claimable once each and must be advertisements on different platforms.
+1 glimmering soul shard, worth 20 regular shards.
+1 magic booster, simply means the character will not lose any soul shards for that occasion of magic use.
+1 fate booster, adds +10 to a character's fate roll.
+1 consequence-less soul shard sacrifice, gift shards (as many as you want) to another without paying the price.
These can be held on to and used at a later date on any character of your choosing.
When advertising on a space that is not directly yours please be sure that they do not have a link back requirements as we do not have an advertisement board.