N A V I G A T I O N 
Enjoying the Can
dyfloss? Check out these other CS Worlds you may also like!
Want to affiliate your CS world with Candyfloss? PM Tenshilove with  info about your world and you may be accepted as an affiliate!

This month's clan is Alpha!


 Check out these top 5 Phifloss from the community! This is decided based on character likes. 
The Candyfloss
 


      Welcome to the world of Caramella! A colorful candy planet
      filled with Candyfloss; four armed fuzzy creatures from outer space!
 
>>Summer Sunsets!
August is the twilight of summer, calm summer nights, exciting summer days and the fairwell to the scorching heat! Well, the Candyfloss like to give the summer a big harrah sendoff with the biggest, loudest and most exciting of their holidays, the Rythmos Festival! Check out the Holiday for all the Phi themed goodies, new pet evolution, outfits, ych, bases and more! 
It's time!
 Kitten season is back and bigger than ever! Come check out what the STAFF have prepared for this season! Register your floss to participate in this 3-month event and walk away with an assortment of art, story and an adorable little kittenfloss! Dont have a couple ready for a kitten? Dont worry! Our surrogates and Donors are all lined up and ready to help you with all family types and unique situations! Even the happy accident kind, oof!
Back to school! Join in the fun in the art prompt this month! Welcome in the school year with the Candyfloss and draw your CF in your favorite school uniform! 
Grats to last month's Prompt contest winner in the SquadGoals Prompt contest AxototlDuck

 

! The August myo raffle is open and grats to our winners from last month Extra0rdinaryCPasta  RisingSun98  and DonutDoggy ~ Join for your chance to win today!  Everyone give a big hand to our floss of the month @

Bigbyshand

's Cayenne and check out everything there is to do in the group this month with the buttons bellow!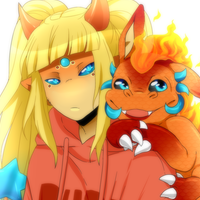 Floss of the month are chosen by the Admins based on user participation and love given to the floss~ This particular User was selected by Twila-Fish
For August's floss of the month we meet Cayenne, a feisty Alpha popfloss! This girl sure knows her way through martial arts and is always ready for a match. Cayenne is a very active and determined floss who will not idly stand by but rather head straight into the action when needed. She will not let anything stop her from getting where she wants to be in life, which in her case is becoming a martial arts choreographer for movies. She really enjoys those old action films. She will show everyone how it is done, and no one will stand in her way while she does! 
 Cayenne belongs to bigbyshand! Bigby has been a member for quite a while now and throughout their time in the community, they have become known for their love for spooky-looking floss and amazing design skills, along with fantastic artwork. They can often be seen on the Discord server sharing positive comments and words of encouragement to other members and staff. Hoping to keep seeing you around in the future too. Thank you for being part of the community, Bigbyshand! 
Check out what Adoptables are available and check back to see what's new! Want to watch our Admins create floss live? Subscribe to our live streams to get alerted or join when you see us online!