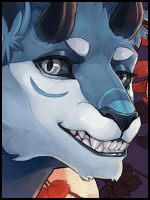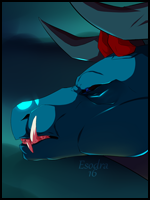 01. Eyenoom ✓ (Eyenoom Dragon Form)
Profile
---
About
| | | | |
| --- | --- | --- | --- |
| Name | Eyenoom | Nickname | Centi |
| Age | 21 | Birthdate | December 22 |
| Gender | Female | Species | Insect/Dragon |
| Status | In Open Relationship | Theme | TBA |
IMPORTANT; Eyenoom is NOT a shapeshifter. Her dragon and original form does not exsist in the same canon. The dragon form was only made because I wanted her to have one, as I enjoy drawing dragons. Think of it as alternative universes~
Personality
Her personality differs a bit in her dragon form. She's a lot more hostile and animalistic as she's living wild in a foresty setting rather than in any type of society. She's very territorial but will rather avoid fighting if it's possible as she's quite weak.
Summary
In her dragon form Eyenoom is long and sleek with leather-like, smooth skin. She isn't particularly strong but she's very quick and agile. The appendanges on her back pose a great weapon for attacking. The shells of her tail is very sturdy and she can wrap her tail in front of herself to block attacks.
Her turqouse markings are bioluminescent and able to glow in the dark.
Trivia
Eyenoom's colors in her dragon form are more saturated to appear more dangerous.
All the legs on her tail are able to move individually, though she doesn't have much control over them.