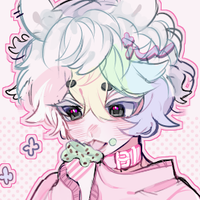 Profile
---
"Yeah, you're right.. unicorns aren't real. That would be dumb.. lmao"
SEXUALITY
Gay, fraysexual
A long way from home, Vellum finds himself pausing on occasion, his mind empty except for the most beautiful meadows, majestic mountains, lush forests, and glassy oceans he's ever seen. They feel so real to him and fill him with the most intense yearning he's ever felt for anything in his life.
And then the memories fade. He forgets what he was thinking about. And he wonders why his heart aches.
TRIVIA
Unbearable pollen allergies. He stays indoors during spring.

Sketchy memory. Knows what he is, not where he came from.

Can and will eat any cupcake in his peripheral vision.
CALMING / GENTLE / WISHFUL
Vellum found himself wandering the streets of Moda without any idea of how he got there, or even who he was, at the time. While most passersby ignored him, it was Milky who listened to him, and offered him help. No one in Moda's entirety saw Vellum arrive in the city, so his appearance is a mystery, since Vellum knows nothing more than anyone else does. Struggling with memory issues himself, Milky felt connected to Vellum, and invited him to stay with him while he figured things out for himself.
Over the years, little bits and pieces of Vellum's life have resurfaced, but not much. He knows that his true form is a unicorn, and he knows that his species is hunted by many. Outside of that, he knows nothing, and can remember nothing. Still, he's determined to make the most of things here in Moda, and he puts his best foot forward each day.
Smoothies

Paddleboats

Theme parks
Tomatoes

Shag carpet

Incense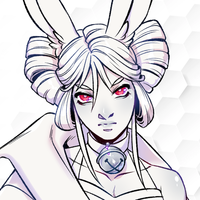 Vellum has had a crush on Chalk for quite some time now. He and Chalk have an established friendship, but that's all it really is. Chalk is aroace and is unaware of Vellum's feelings.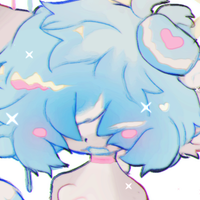 Being Vellum's first friend, Milky has also remained his closest friend. The two of them have bonded over debilitating memory loss and are often nested in pillows on Milky's living room floor watching cartoons.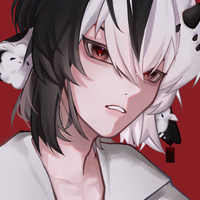 Vellum and Li did that thing where you meet each other and within twenty minutes you're sprawled out on the floor talking about all of your gay traumas. Li's roommate, Arvatris, joins them in being a bunch of behooved hoofed friends.
ENNEAGRAM
Type 9 - The Peacemaker
DESIGN NOTES
Wings are optional when drawing!

Never draw him with a unicorn horn, please

Alt outfit consists of underwear and crop top

Tail can be braided in artwork!