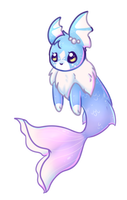 Profile
---
Original Raffle text by owner♡ *•.¸
I've changed my mind on this adopt aswell as the other they are being raffle/free
because the character was raffled off, that means.. they are NOT allowed to be sold only gifted.Free=Free 
This rule falls apart when the character is given more artworks that would add to it's value.
Be aware that i will not do business with anyone who claims "T.O.S." are no longer valid after receiving character.
winner will be chosen through a name picker {wheel that spins with everyone's name inside