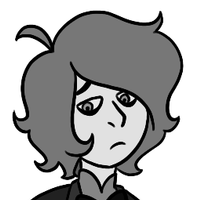 Profile
---
Name: Gray Diamond
Nickname: Gray
Location: Homeworld
Gem Type: Diamond (artificially made) 
Gem Location: Nape of the neck
Age: ??? 
Gender: Sexless
Pronouns: He/Him/His
Height: Like Blue Diamond 
Weapon: Shovel
Occupation: Patriarch on homeworld
Powers: 
Standard gem abilities (weapon summoning, bubbling,...)
Memory Manipulation
Gem Juvenation (mostly uses this to heal corrupted gems) 
Personality: Good, friendly, melancholic, sympathetic, forgiving 
Facts:
Gray Diamond got artificially created of the cremation ashes of a young man. 
His form resembles the human, from whose ashes he was made from. 
It was an anonymous urn space burial and Gray wants to find out, who his family is. 
He got made, because some gems found the urn and analyzed it, finding out that is had enough carbon to make a diamond out of it. 
He has no mural. 
Gray usually has a pokerface. 
He likes to help corrupted gems. 
Gray cares about his pearl and court a lot. 
(This is a WiP, will add more later)