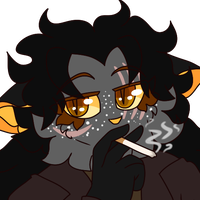 Profile
---
closed-off . serious . passionate
---
S

ummary

Vincent is the father of Severus Dantès and the husband of Beatrice Trinh. He is passionate about what he loves, but takes the world around him very seriously. He is old and tired. Worn down from his past, Vince prefers to take it easy and carefully. He is content with his life as a father, he loves his wife Beatrice lots and would never leave or hurt her.
---
T

rivia
Father of Severus Amira
Has had two ex partners before meeting Beatrice.
Vince was born in the 1700s! He is very secretive about his past.
His parents are named Tristan and Laurine.
Vince is a demon.
---
D

esign Notes
Fluffy hair and fur
Long eyelashes
He has a lot of battle scars on his face and body.
Sharp teeth