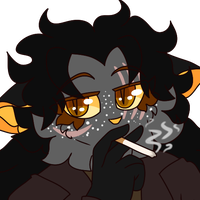 Profile
---
Vince
stern . aggressive . closed off
Name
Vincent Dantès
Called
Vince
Age
112 (at start of story)
DoB
February 20
Gender
male
Pronouns
he/him
Height
1.85m/6'0
Build
lanky
Species
cat
Role
Side character
Worth
$114
Theme
Obtained
Self made
Status
NFS/T
Owner
Designer
We do what we do to fill the empty space
About
At first glance Vince is extremely charismatic and sweet. He is actually incredibly cruel and manipulative. He often takes advantage of people. On rare occasions if he really likes someone, he will treat them with decency, though he still has manipulative tendencies towards them. He is Severus's father and Beatrice's husband.
Vince was born in France in 1768 to his parents Tristan and Laurine. His parents were cold towards him, leaving Vince emotionally closed off himself. He moved away from home and moved to England when he was 19, he met Lawrie and the two became a couple. When Vince was 22, the two were shot and killed by an angry mob. Vincent was revived as a demon and taken to Ozryn. He stayed in Ozryn for a good while, but decided to leave after falling in love with Calliope.
He met Beatrice in 1866 and the two fell in love. Vincent genuienly loved Beatrice and treated her with love and respect. The two got married and they eventually had Severus in 1870. Vince had a very hard time bonding with his son and often acted emotionally distant towards him.