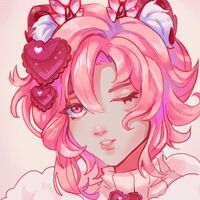 Rules/ Information
Feel free to make an offer even if you already made one 
If you are offering a folder, be sure that you mean the entire folder, 
that's valid for "anyone on my toyhouse offers" too 
 Offer picrew / gaia online / doll creator designs only if they come with extra art
(even so I will be picky with those) 
Please comment the the style that you liked.


I'm amazed by the beautiful designs in here and have decided to see if I could get some. Normally I tend to finish a (single) piece in one week or less.
Looking for
Things on my preferences
One-Offs l CS Premades l MYO Slots 
Feel free to offer me anything
(ferals and anthro are tent)
Vouchers 
Not looking for
picrew / gaia online / doll creator 
AI made characters
Offering
For the pink alternatives I will be more inclined to accept MQ and HQ designs 
Red is very tentative 


Shaded pieces
| | | |
| --- | --- | --- |
| | | |
| | | |
(Shaded) Examples Gallery
Rendered pieces
| | | |
| --- | --- | --- |
| | | |
| | | |
(Rendered) Examples Gallery
Pixel Art
| | | |
| --- | --- | --- |
| Icon | | |
| | | |
| | | |
| | | |
(Pixel) Examples Gallery


Other Types of pieces
Welcome to ToyHouse! :D
I have a couple of characters that I'm hoping to rehome over here: https://toyhou.se/geister_ghost/characters/folder:2897127
8 of them are kemonomimis of some sort :0
If any of them catches your interest, i'd be more interested in style one and if bust or half body would depend on the character as they have very different amounts of art,,
Thank you for considering! :D
Hello everyone!  I wasn't expecting so many answers, I will answer the offers in order     Thanks everyone  

werewolfpaw  Thank you for the offer! Unfortunately I'm not interested in her

kaizai  I really liked these two and marina
SpunkySkunk thank you for the offer, but I am looking forward to other kinds of desings

VictoryDrawsManga  nothing really caught my eye, thank you for the offer  

hikaru-i Casmer is very lovely, I'm interested in them

geister_ghost David caught my eye

 If I liked your OC, please feel free to DM me 
---
heya your art is so pretty!! would anyone in these folders interest you? :0 id be willing to trade multiples too!