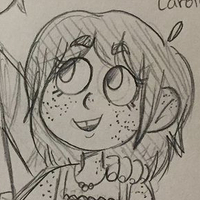 Profile
---
NAME: Caroline Megan Davis
AGE: 11
SPECIES: Human
BIRTHDAY: November 11
PRONOUNS: She/her
SEXUALITY: ???
HEIGHT: 4'11"
PERSONALITY: Bubbly, energetic, and passionate. Caroline is an avid reader and does very well in school. She is also in choir and is very good at singing. She loves school, and prefers being there than being at home most of the time.
ADDITIONAL NOTES: Crae's little sister.