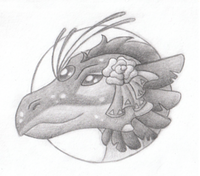 Basic Info
---
Profession

Gardener, artist
Profile
---
Personality
Adventurous, caring, cheerful, creative, idealistic, impulsive, emotional, flamboyant, petty.
Appearance
Flight: Nature
Primary: Thicket Starmap
Secondary: Thicket Bee
Tertiary: Thicket Capsule
Eye Type: Nature Common
Length 5,25 m
Wingspan 5,82 m
Weight 907,49 kg
Life
Painter originally left her birth clan in order to become a wandering artist. (That's also when she switched her birth name to her current one.) She enjoyed the lifestyle for several years and had her fair share of adventures, including finding a lost egg and taking it with her, until she finally ended up coming to the Seafoam Clan. Her egg was just about to hatch so she decided to take shelter within the clan for a little while. In the end the stay gradually turned into a permanent one when she and Horan fell in love and decided to raise the hatchling, named Beasa, together.
In the remote and fairly primitive Seafoam Clan there wasn't that much work for a visual artist, so even though she still paints and crafts for fun and occasional clients, she also uses her Nature magic to maintain a small garden for the clan. There she grows medicinal herbs, alchemy ingredients, plants used for dye-making and such. She's also teaching the future dye-maker Emini all she knows about plant-based pigments.
Tidbits
Birthday is in 7.9.
Painter is usually confident about herself and her gender identity and doesn't have a need to alter her appearance because of it. Rarely she might twirl her antennae around each other in a way that at a glance it looks like there are only two of them, but that's as far as she ever goes.
About the character
Created in 2019.
I received Painter (who was already named) randomly for free and decided to keep her.
She was the winner of The Pelican Post's best XXX dragon competition 23.3.2020.
Original character info can be found here.