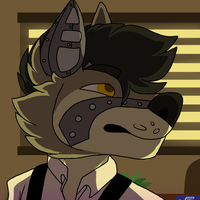 Profile
---
Limbashu
"If these gears aren't moveing, than neither am I"
Likes
Inventing and creating
Collecting trinkets
Drawing
Photography
Dislikes
Competition
Disagreements
Rainy weather
Trivia
Limbashu even after moving away is still really close to his old friends and family
Despite his advanced skills, Limbashu has no interest in competing with others
Limbashu often stays awake for over 24 hours working on his creations
He enjoys creating inventions with the intent of helping others
While water doesn't hurt him, It can make some of his parts rusty so he has to be careful
He is T4T
About
Current Information
Limbashu is a coyote inventor who lives in a small community within the inner city. He has a passion for creating and inventing and will spend most of his time working on new projects and creations. He is seen as immensely talented and encouraged to use his skills to compete with other inventors around the world but prefers a more humble life simply creating inventions to help others live better, happier lives. In his spare time when he isn't inventing, Limbashu goes out into the countryside to paint and take photos with his partner (name is still a WIP) who got him interested in art.
Personality
Limbashu is very curious and loves to learn about the world around him. Oftentimes taking trips into other parts of the world or reading about new locations that interest him. He tends to be a bit shy and isn't a big fan of pressure from the fame he's acquired by those in the city and his hometown; Still, he does appreciate the support for his work. Limbashu tends to be introverted and likes to keep to himself but he is close with (name is still a WIP) who he met once he moved into the inner city.
History
WIP AGAIN
Moodboard
Links
Walford
Antagonistic
Walford knew about Limbashu's talents and abilities in inventing as soon as stories about his inventions began to spread. Walford hated the idea of anyone getting in his way of becoming the most influential inventor of the city and has tried countless times to compete with Limbashu to prove his superiority. Limbashu always declines his offer hoping to just be friends but Walford has more sinister plans to deal with limbashu.
N/A
Partner
Limbashu meets them once they move into the community for creators and inventors and they form a close bond together. Often teaching each other new skills and going on trips together. Eventually they confess to Limbashu and the two of them are now together in a relationship.