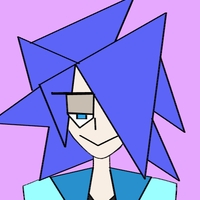 Profile
---
KILLIAN
AGE: Unclear, but probably college-aged, inferring from his idle phrases and purpose. (Created on December 3rd, 1999)

GENDER: It's not listed in his properties, so who's to say? (he/him)
PROPERTIES:
- My hair is: #5c64f7.
- My eyes are: #2ba9f1.
- I am [INCOMPATIBLE] feet, [INCOMPATIBLE] inches tall.
PROGRAMMING:
- My favorite color is #2222f1.
- My favorite food is computer battery power.
- My favorite song right now is correctsound.mp3.
- Some of my hobbies include: being good at math, being good at math, and skateboarding.
- The best part about school is preparing students for college by knocking their spirit down a peg or two.
- When I grow up, I want to: I don't really have aspirations, 'cuz I kinda don't age and can't move on my own. Use your imagination, I guess.
HISTORY:
He is an Educational Program who debuts in the Junior Year.
He has two younger siblings and an older one, since the program in which he appears covers all four high school grade levels. He covers the Junior level.
REPORTS:
Aaron Erick Batholomew Jr.: Conceited little ***** who thinks he's too good for the system.
Baxter Novikov: My friend, who's smart and quick on his feet. He has a bright future, even if he insists otherwise.
Cupid Quintana: Trying her best.
Dolce Stefano: I don't like how she thinks she's smarter than me. I'm smarter than her.
Eddie Lestrange: Kind of slow.
Mr. Farris: IDK this guy.
Georgios Morandi: It's obvious he hates math. His eyes go huge and his face gets red.
Imani Abimola: Doing great, no complaints.
Jude Bullard: Can't wait for her to reach my bracket, seems like a pleasure to have. My little sibling says she's a beast at math.
Lyudmila Novikov: My friend's sister. She knows I can hear her, so she talks to me. Totally weird girl.