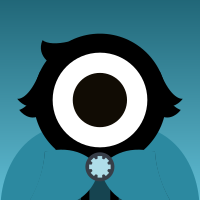 Basic Info
---
Aliases

Lord Kaien, Patapon Kami, Almighty Patapon

Combat class(es)

Varies, but he is mainly a spearman

Weapon range

Varies, but mainly uses spears and related weaponry

Positive traits

Compassionate, understanding, kind, brave

Negative traits

Anxious, has confidence issues, secretive, easily agitated

Likes

His people, stargazing, nature, adventures, humor

Dislikes

Swamps, wars, demons, feeling helpless
Profile
---
"It's living with mistakes that's the hardest."
Both the divine leader of his tribe and the Almighty of his world, Kaien is an adventurous soul with a a penchant for discovery of things both clear as day and obscure as night. He dedicates himself towards providing for his people and protect them from the many dangers that await them, as well as inspiring them to defend Rolitoland, homeworld of the Patapons and several other races in return. Beneath the God of Time's benevolent and protective nature, however lies several dark episodes throughout his life. He used to be the leader of an ancient council, cooperating with four other diving beings he befriended. Kaien eventually fell in love with one of them, and their relationship spread among whispers of the four tribes back in ancient times. Unfortunately, they both became victims of a colleague's jealousy, which lead to a horrifying war between two races. Though he emerged victorious, he realized the truth far too late, and regrets it even to this day.
Kaien is currently missing after the success of driving back the Archfiends once more during the Second Archfiend War. As part of an effort to save his people from the stone curse these Archfiends put upon them, he voluntarily leaves his homeworld, and travels through other instances of Rolitoland. It is unknown when he will return, and what doesn't help is that some people assume him to be dead.
When blending with the common, mortal folk without having to risk freaking people out, he chooses an alternate form instead.