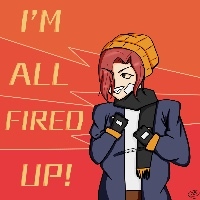 Profile
---
---
Codename
Prometheus' Gift in Flesh and Bone
---
Gender
Genderfluid (any pronouns)
---
---
---
---
---
---
---
Voice
Black☆Star (ENG), Hyuga Asahi (JPN)
---
About
---
Katsu Hyakuji is the SHSL Beyblader!
Katsu Hyakuji is a Hope's Peak Academy student with the talent SHSL Beyblader. Hailed as the successor to his brother, Katsu is widely known across the beyblading community for her proud exterior and often reckless behavior. He resides in Chiba Prefecture.
Character
---
Likes
Shonen Anime
Fireworks
SWAG
---
A bold person, Katsu is never one to turn down a challenge from anyone, no matter how dangerous or embarrassing. Some might call their interests childish or stupid, but make no mistake, Katsu's expertise and prowess in beyblading has skyrocketed him to the top tournaments in Japan.
Influence
---
Katsu Hyakuji
Katsu is fairly well-known across the (somewhat niche) beyblading scene in Japan, but not just for their skill. Katsu is so competitive, and often vulgar, that their opponents often vow to defeat him just to knock him down a peg.
Trivia
---
Favorite video game genre: Fighting
Favorite Sport: Karate/Martial Arts
Favorite Song: Watch Me - Silentó
Former High School: Minami Commercial High School
Favorite Food: Hot Dogs
Related
---
Katsu's brother, idol, and legal guardian! Despite his apathy toward his younger sibling, Hyuga constantly looks out for his brother and drives him to beyblading tournaments.
Katsu's pet hamster! Despite Katsu's incredible stupidity, he's somehow managed to care for the hamster well. Sometimes she will sneak Gorgo into her pocket to watch her beyblade tournaments.
Katsu's girlfriend, and the SHSL LARPer! While they currently communicate long-distance, Katsu has sworn that they will one day prove their superiority in beyblading in front of their girlfriend, no matter what. He's also absolutely willing to accompany her on her LARPs. He frequently calls her his "little pogchamp." (Character belongs to _fallingacorn on Twitter!)