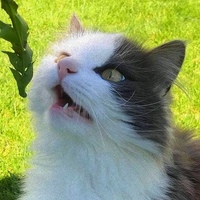 Basic Info
---
Date of birth

May 25th 2018

Date of death

September 14th 2020
Profile
---
Lilo is not an original character, but was my cat. Her page is a place for me to gather all the art of her.
Lilo is no longer alive, she was run over and killed in September 2020, but I still want to keep track of all the art I've gotten of her.
Lilo was my cat. All the other pets are family pets, but Lilo was mine. She was special, and I don't think I'll ever find a cat like her again. She was so important to me and I miss her everyday. 
Lilo loved climbing in tress and was always very entertaining to watch. She'd always find a way to make me laugh. She loved sleeping on my bed, and when it was time for cuddles she would lay her face on mine and purr loudly while demanding cuddles. She also enjoyed climbing up my entire body to lay on my shoulders.